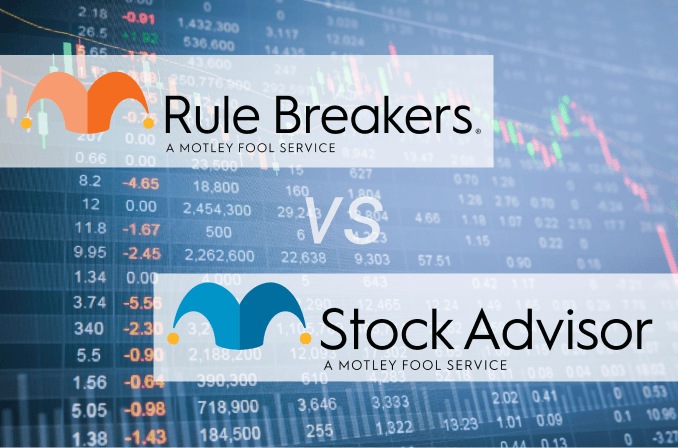 Motley Fool Subscriptions
The Motley Fool offers two very popular stock picking services; Rule Breakers and Stock Advisor. Both have out-performed the market by a wide margin and both focus on stocks with long-term growth in mind. Both are very complimentary so for those interested in both services the best deal is their bundle offer.
Let's jump right into the comparison of the two investing services so you can decide which or both is right for you.
---
Motley Fool Rule Breakers
Rule Breakers is run by David Gardner and has been providing monthly stock recommendations since 2004, let's take a closer look at some of the services best picks, recent picks and to-date performance.
A $500 investment in these 5 Rule Breakers picks is worth $227,980 today.
| | | |
| --- | --- | --- |
| Rule Breakers Stock Picks (2004 to 2021) | Return | Annualized Return |
| Intl E-comm Company | 16,194% | 1,633% |
| EV Company | 10,776% | 851% |
| E-commerce Company | 6,901% | 416% |
| Robotics Company | 6,680% | 1,179% |
| Gaming Company | 4,546% | 270% |
Click Here to See the Latest Rule Breakers Picks (Oct 27, 2021)
These recommendations have beat the S&P 500 by 21.8X with an average return of 9,019% or 870% annually.
All returns are calculated from the date of recommendation to present. While these are the best performers the average Rule Breakers pick has returned 359% which is 2.9X the S&P 500.
Recent Performance
We know that Rule Breakers has had some huge all-time picks, but how have their more recent picks performed? Let's take a closer look and find out.
Top Rule Breakers Picks From 2016 to 2021
These are the best stock picks from the Rule Breakers service from 2016 to 2021. The service releases two new stock picks per month.
| | | |
| --- | --- | --- |
| Rule Breakers Stock Picks (2016 to 2021) | Return | Annualized Return |
| Shopify (SHOP) | 6,680% | 1,179% |
| The Trade Desk (TTD) | 2,119% | 454% |
| Specialty E-commerce Company | 1,825% | 371% |
| MongoDB (MDB) | 1,511% | 422% |
| Atlassian Plc (TEAM) | 1,330% | 266% |
Q4 2019 – Rule Breakers Stock Picks
The Q4 2019 Rule Breakers picks have beat the market by 4.4X with an average return of 232% compared to 53% for the S&P 500.
| | | |
| --- | --- | --- |
| Rule Breakers Stock Picks (2019 to 2019) | Return | Annualized Return |
| Specialty E-commerce Company | 504% | 263% |
| Cloud Company | 397% | 199% |
| Consumer Exercise Company | 200% | 105% |
| Pet Food Company | 166% | 91% |
| Medical Tech Company | 64% | 35% |
| Medical Device Company | 58% | 29% |
Latest Rule Breakers Picks
Here are the latest Rule Breakers stock picks. The last pick (released on Oct 14th) is a fast growing information technology company with over 60% YoY revenue growth forecasted.
| | | |
| --- | --- | --- |
| Latest Rule Breakers Stock Picks 2021 | 40 Day Gains | Revenue Growth Forecast |
| Rule Breakers Pick (Oct 14) | 2% | 61% |
| Rule Breakers Pick (Sep 23) | 43% | 214% |
| Rule Breakers Pick (Sep 9) | -1% | 53% |
| Rule Breakers Pick (Aug 26) | 2% | 61% |
Next Rule Breakers Pick
The next Rule Breakers pick will be released on Thu, Oct 28th. You can access the next couple picks and all past picks risk free for 30 days.
| | |
| --- | --- |
| Rule Breakers Release Schedule | Release Date |
| New Stock Pick | Oct 14, 2021 |
| 5 Best Buys Now | Oct 21, 2021 |
| New Stock Pick | Oct 28, 2021 |
| New Stock Pick | Nov 11, 2021 |
Click Here to See the Latest Rule Breakers Picks (Oct 27, 2021)
---
How Does Rule Breakers Work?
Rule Breakers is built on the conviction that investing early in great high-growth companies for the long-term will produce the highest returns. The teams mission is to find tomorrows great growth stocks before Wall Street does. Some of the best examples include Tesla, MercadoLibre and Intuitive Surgical.
In order to have the best success in growth stock investing Rule Breakers has developed an investing criteria which helps identify the very best growth investments with the highest chance of long-term sustainable growth.
Not every company will encompass all six of the investment criteria, however those that do have a record of extraordinary growth over a long period of time.
Rule Breakers Investment Criteria
First to market or "best in class" in an emerging industry.
Sustainable advantage from momentum, patents, leadership or lacking competitors.
Strong historical price appreciation.
Strong management team with "smart backing".
Brand with strong consumer appeal.
Companies believed to be overvalued by the mainstream.
High Growth Trends
The world is always changing and learning how to capitalize on powerful growth trends can lead to great investment opportunities. Investment trends like…
Streaming media
The digital payment revolution
Cloud computing
Remote work
Online advertising
e-commerce
Tele-medicine
What You Get with Rule Breakers
What you get with Rule Breakers is much more than just monthly stock picks. Investing mistakes can be extremely painful and Rule Breakers provides an incredible education from phenomenal investors with time-tested investment knowledge which is truly an invaluable benefit of being a member.
Here are some of the most important things you get with a Rule Breakers subscription.
New Stock Picks: Two new stock picks are released per month. Each pick comes with a buy recommendation report.
10 Starter Stocks: "Starter Stocks" are provided to all members and meant to provide a foundation to newer portfolios with a risk and reward balance.
Best Buys Now: Bi-weekly the team releases a list of 5 "Best Buys Now" stocks which are the current highest conviction picks from the Rule Breakers portfolio.
Scorecard: Every stock pick since 2004 is tracked on the Rule Breakers scorecard covering returns, recommendation date, link to buy report, return to date, return vs benchmark and more.
Access to Motley Fool Live!: 8 hours daily live streaming programs offering deep dives on stock picks, CEO interviews, investing mindsets, Q&A and more.
Premium Content: Industry reports and articles covering the domains of Rule Breaker's picks including….
5G Revolution
Autonomous driving
Next Gen Entertainment
The Next Amazon
The future of streaming
iPhone Supercycle
Tools: Asset allocation tool helping structure a portfolio according to risk tolerance and time horizon.
Investor Community: Gain access to a large community of investors, sharing stock picks and investment strategies.
Price of Rule Breakers: $99/year (for new members) which is 67% off the regular price of $299/year and comes with a 30-Day Money Back Guarantee.
Click Here to See the Latest Rule Breaker Picks (Oct 27, 2021)
---
Motley Fool Stock Advisor
Stock Advisor is led by co-founders David and Tom Gardner and just like Rule Breakers they release two stock recommendations per month.
Stock Advisor is a great option for those building a new portfolio. In addition to the two new stock picks each month you'll also get 10 starter stock which are the best long term investments from past recommendations. Additionally two times per month you'll get 5 stocks which are the best timely buys right now.
The Stock Advisor team continually tracks the performance and developments of all past recommendations and these timely buys are based on the past picks that present the best buying opportunity right now.
A big difference between Stock Advisor and Rule Breakers is that both David and Tom each provide a stock recommendation based on their investing criteria, while Rule Breakers only features picks from David Gardner.
As part of Stock Advisor David's picks focus on companies with "undeniable, long-term trends" and "unquantifiable greatness" ideally wanting to get in early and adding to his positions as the growth continues.
Tom's picks focus on great companies in "beaten-down" but still relevant industries ideally with strong management ownership.
Overall Performance of the Stock Picks: Average pick's up 504% compared to 95% for S&P500.
Price of Stock Advisor: $99/year (for new members) which is 50% off the regular price of $199/year and comes with a 30-Day Money Back Guarantee.
Click Here to See the Latest Stock Advisor Picks (Oct 27, 2021)
---
Stock Advisor vs Rule Breakers – Final Thoughts
Overall both services have long track records of beating the market and both are $99/year for new members making it easy to recommend either service as they provide great value.
Stock Advisor has a more open ended investing approach and may appeal to more investors while Rule Breakers focus is strictly on disruptive growth companies that tend to focus largely in the tech space and come with greater volatility in the short-term.
Both services work in a very complimentary way and will give you greater exposure to high quality, growth stock picks and thus if you can afford we recommend trying both. Both come with a 30-day money back guarantee so you don't have much to lose.
If you only want to try one, we recommend starting with Stock Advisor first and then add on Rule Breakers at a later point after you have started building out a portfolio.
Click Here to Try Stock Advisor Risk Free for 30 Days (Oct 27, 2021)
Rule Breakers FAQ
»RELATED: Best Stocks to Invest in for the Long-Term , Full Review of Motley Fool Stock Advisor , Learn more about Motley Fool Stock Picks.