10 Best Stock Picking Services, Sites & Stock Advisor Subscriptions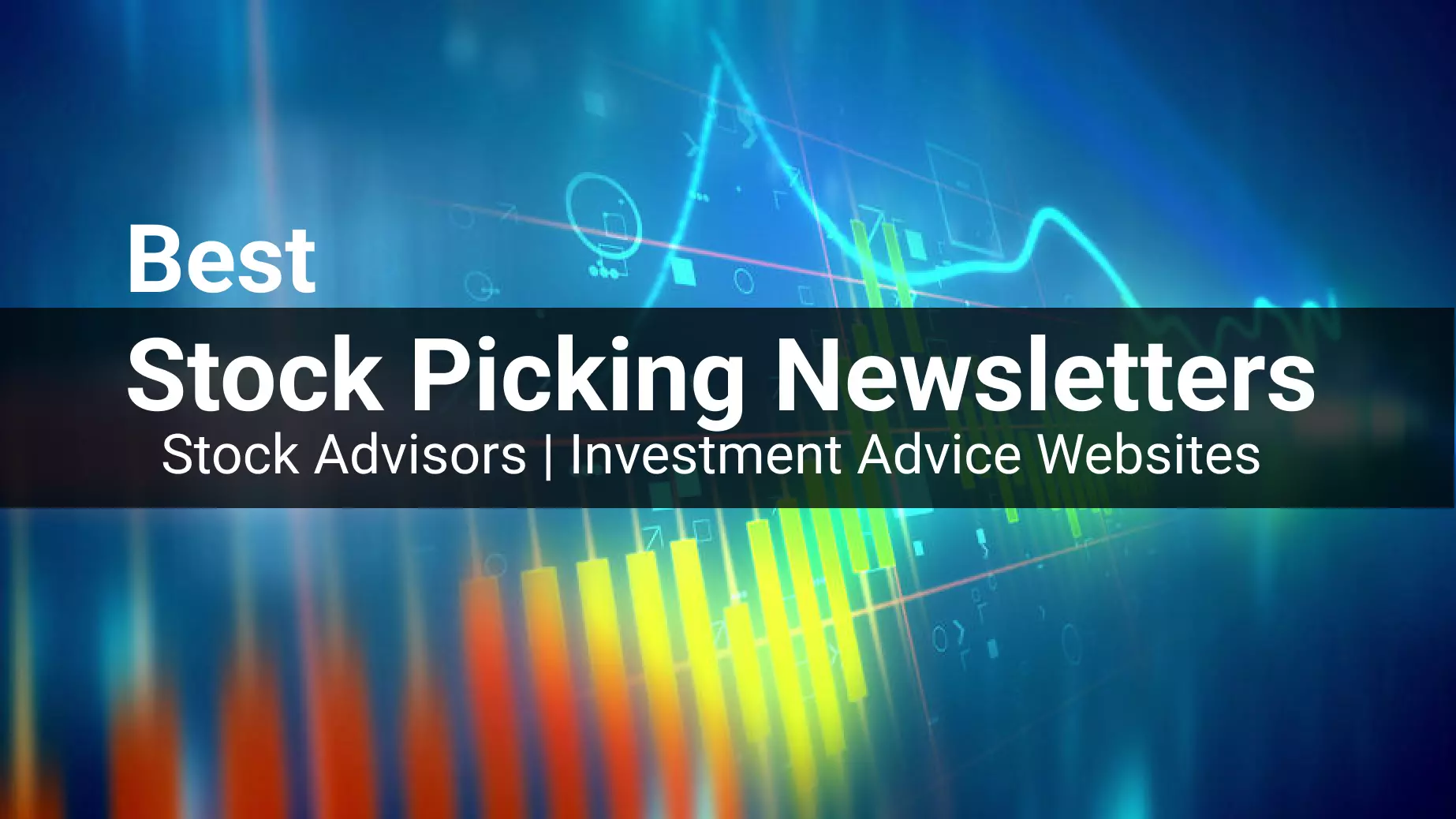 What are the Best Stock Picking Services?
In the pursuit of above-market returns, investors often turn to individual stocks, which necessitates time, expertise, and diligent research. This is where stock picking subscriptions, investment newsletters, and stock advisor services can prove invaluable.
These resources can help uncover high-potential stocks while saving you considerable time in research and streamlining the efforts required to keep up with investments, such as monitoring quarterly earnings reports. With numerous stock picking services available, let's explore some of the top options that can assist you in outperforming the market.
1. Motley Fool Premium Stock Picking Services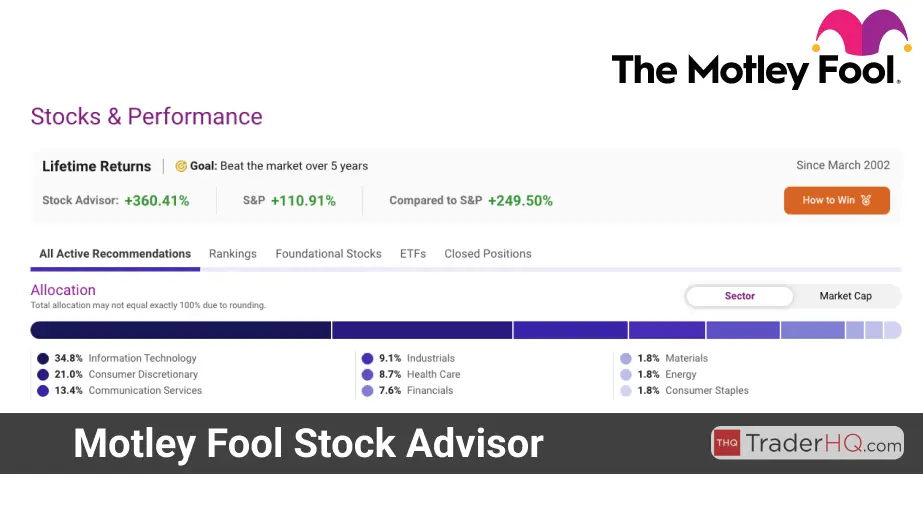 If you're looking for a stock picking newsletter with a good track record, then you may want to check out Motley Fool Stock Advisor. The stock recommendations from this newsletter have consistently outperformed the market since it launched in 2002, with the average return beating the S&P500 by 2-3x.
Motley Fool Stock Advisor is a great option for both experienced investors and those who are just getting started because it provides stock picks and also offers educational content to help subscribers become better investors.
The Motley Fool Stock Picking Services are a great way to find stocks that are undervalued and have great potential for growth. The services offer a variety of tools and resources to help you find the best stocks to invest in.
The Motley Fool offers many different stock picking services, which they segment by investing styles or themes. The three most popular services are Motley Fool Stock Advisor, Rule Breakers, and Everlasting Stocks, with Stock Advisor being their flagship product. In addition to stock recommendation services, they also run real money portfolio services.
The most popular real money portfolio service is the Everlasting Portfolio. This is Motley Fool CEO Tom Gardner's personal portfolio which contains all his stock investments.
For all Motley Fool services, each stock recommendation comes with supporting information and research, as well as on-going tracking and updates on the pick. They provide additional value to members with investing content and resources, making it a good choice for investors looking to grow and learn more about long-term growth oriented investing.
Each service has its own scorecard which includes all current and past recommendations, as well as the performance of each pick.
Stock Advisor - Costs $99/year (for new members)
10 foundational starter stock recommendations,
2 new monthly recommendations
Bi-weekly Best Buy recommendations which are sourced from past stock picks.
Heaps of research and coverage (articles, webcasts and daily/weekly shows) on the stock picks and the market in general.
Click Here to Try Stock Advisor (Dec 8th, 2023)
Rule Breakers - Costs $99/year (for new members)
10 foundational starter stock recommendations,
2 new monthly recommendations (typically one new pick and one re-recommendation)
Bi-weekly Best Buy recommendations which are sourced from past stock picks.
Heaps of research and coverage (articles, webcasts and daily/weekly shows) on the stock picks and the market in general.
Click Here to Try Rule Breakers (Dec 8th, 2023)
Everlasting Stocks - Costs $99/year (for new members)
2 new monthly recommendations
Access to 40+ active recommendations
Monthly stock ratings
All the usual Motley Fool research and coverage on all their picks.
Click Here to Try Everlasting Stocks (Dec 8th, 2023)
Motley Fool Epic Bundle
You can now get access to all 3 services (Rule Breakers, Stock Advisor and Everlasting Stocks) for just $299, which is a $500 discount from regular price.
Click for $299 Epic Bundle offer
All of the stock recommendation services from The Motley Fool come with a 30 day refund period, so it's worth picking up a bundle deal and trying them out for yourself.
2. Zacks Investment Research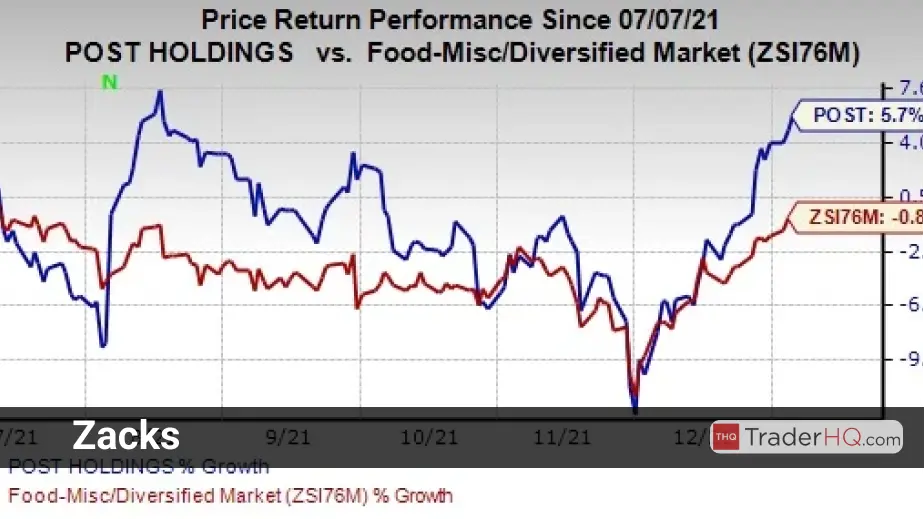 Zacks Premium presents an all-encompassing toolkit and professional research tailored for both investors and traders. Subscribers can expect daily market coverage and alerts, with the option to filter the service by investment styles such as growth, value, income, and momentum, among others.
Two prime sources for short-listing stock buy opportunities are the Zacks #1 Rank list and the ESP filter. The #1 Rank list zeroes in on the top 5% of stocks boasting the highest potential. Since 1988, this list's average return has outperformed the S&P 500 by more than double.
Stocks are rated based on earnings estimate revisions, with classifications such as Strong Buy and Strong Sell. The #1 list comprises the "Strong Buy" classification, which may be favored over other classifications when deciding on short-listed stocks.
The standout features of Zacks Premium include stock screening capabilities, backtesting investment strategies, and the proprietary Zacks Rank. With daily updates, the Zacks #1 Rank list showcases the top 5% of stocks with the highest potential across investment styles such as value, growth, momentum, income, and VGM scores.
The Zacks Earnings Expected Surprise Prediction (ESP) Filter identifies stocks to buy with the highest probability of surprising earnings beats during earnings season. Conversely, it also helps pinpoint stocks to sell, which are likely to experience negative surprises during earnings.
Utilize the custom stock screener to discover stocks that match specific criteria, streamlining the search for relevant investments. The Portfolio Tracker tool offers real-time monitoring of your stocks, assisting in buy/sell/hold decision-making. Each stock holding is continually updated with rank and style scores, estimated earnings revisions, recommendation changes, earnings surprises, and more.
A focus list consisting of 50 stocks based on earnings momentum, as curated by Sheraz Mian, Director of Research at Zacks, includes a supporting thesis for each selection. Easily explore the top industry groups with the help of Zacks industry ranks.
Authored by Zacks Chief Equity Strategist John Blank, PhD, Zacks economic outlook and market strategy reports feature the latest research from the Zacks team, along with new stock updates and downgrades. Every Monday, dive into a market analysis report covering market trends, direction, recommended sector allocation, and changes to the focus list portfolio.
Finally, the Zacks team delves into over 1,000 popular stocks, providing comprehensive reports on each company's fundamentals and growth potential.
3. Seeking Alpha Premium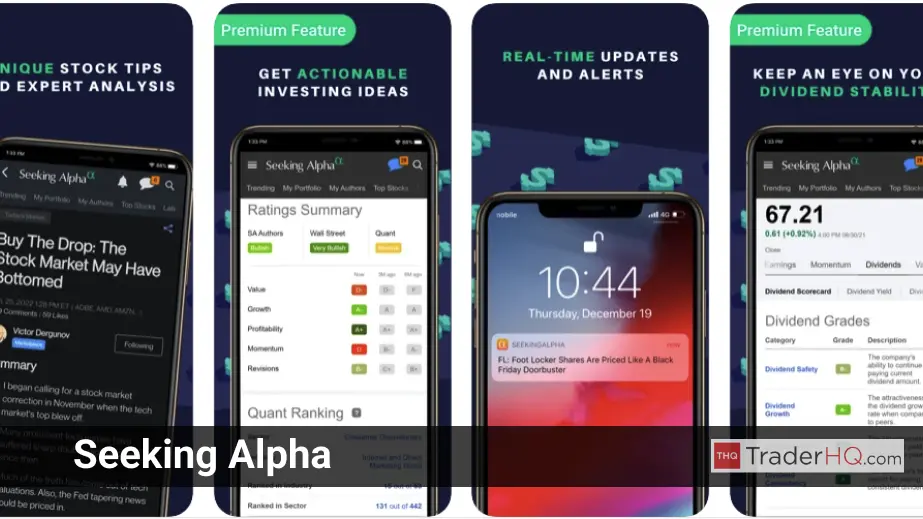 Seeking Alpha stands as a premier platform for stock analysis and financial market coverage, drawing from the expertise of thousands of contributors. Their premium service offers comprehensive access to stocks and market information, along with a suite of tools designed to help track portfolios, discover new investment opportunities, and stay updated on existing investments.
Key Offerings:
Dividend grades assist in identifying safe and growing dividend stocks by evaluating each stock's safety, growth, yield, and consistency.
"Notable calls" coverage delivers actionable investment ideas from industry-wide sources.
The Related Stocks feature allows users to find stocks similar to their current holdings, utilizing crowd-sourced data and coverage from Seeking Alpha users.
By comparing the opinions of both bulls and bears on a stock, users can obtain a more balanced perspective.
A formula that reveals the quant rating for every stock, organized by industry and sector.
The Comparison Engine enables users to contrast up to six stocks or funds side by side, featuring the Quant rating and all Seeking Alpha data points.
Financial data for each stock spans the past decade, facilitating the tracking of quarter-over-quarter (QoQ) and year-over-year (YoY) trends.
Seeking Alpha authors rate the stocks they cover, and this tool provides easy access to those ratings for every stock, serving as an additional data point to support informed investing decisions.
Top Stock Lists:
Overall Top Rated Stocks
Dividend Stocks
Yield Monsters
Tech Stocks
Growth Stocks
Value Stocks
Small Cap Stocks
4. Tip Ranks Premium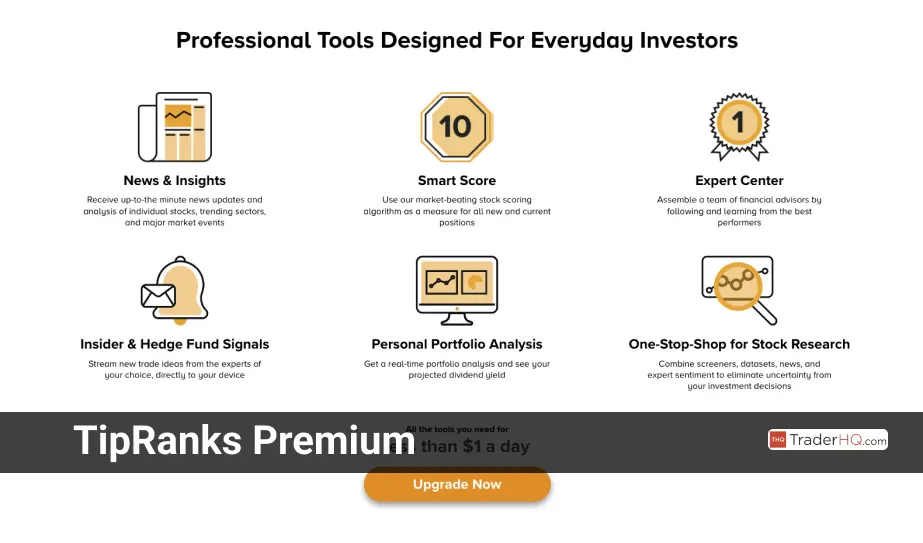 Tip Ranks was established in 2012 in order to aggregate stock data from various sources including Wall Street analysts, hedge funds, insiders, bloggers, and individual investors.
The goal is to provide quality investment ideas on an ongoing basis.
With Tip Ranks you get
The platform provides stock research tools to help you analyze your stocks and find stock recommendations.
"Smart Portfolio" to track your own stocks and analyze them with the Tip Ranks dataset.
"Top Experts" to quickly access the stock picks and research from top ranked industry experts.
News and market coverage to stay on top of the broader market as well as individual stocks.
Calendars: IPO's, Quarterly Earnings, Dividend and Holidays.
Overall Tip Ranks is a service that aggregates stock data, ratings and recommendations in a clean interface. It is helpful in quickly uncovering new investment ideas.
5. Trade Ideas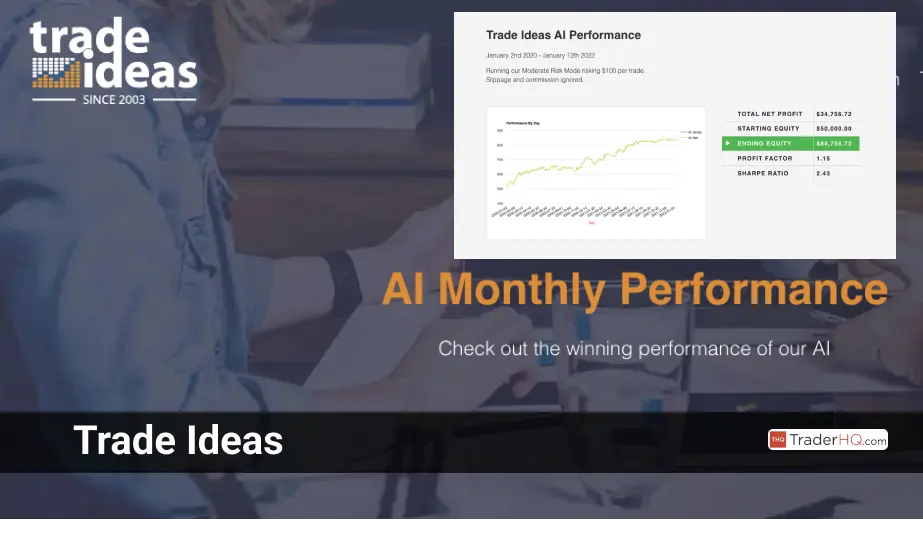 Trade Ideas is a trading platform that uses A.I. and over 30 investment algorithms to analyze trading scenarios and provide recommendations for the next trading session.
You can use the Trade Ideas simulated trading room to test out the recommendations before putting your own money to work.
The A.I. system scans for stock picks, which are then reviewed by the Trade Ideas team before being sent out as recommendations. Each recommendation comes with an explanation of how the pick was made and why it is expected to do well.
Trade ideas is for traders, not long-term investors. The basic subscription costs $1000/year, and the top tier premium plan costs $2000/year.
6. Dividend Investor Newsletter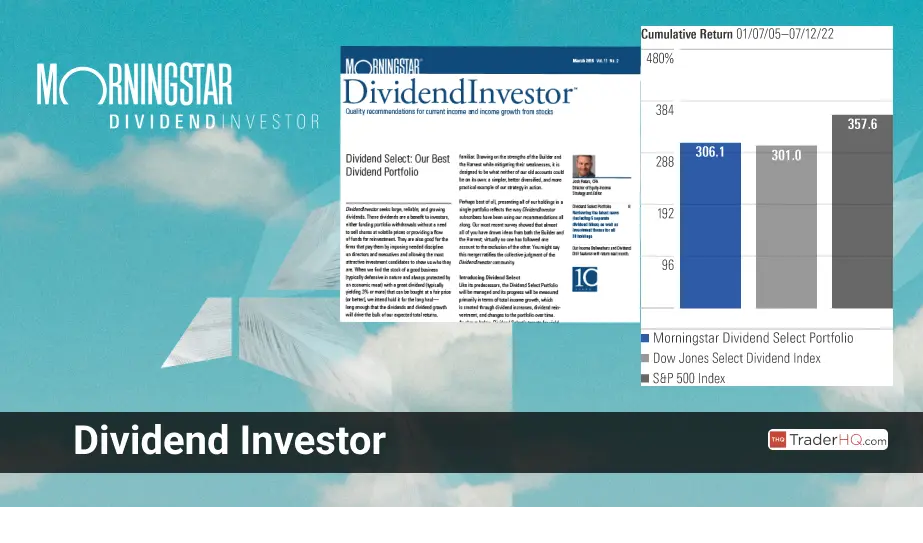 The Morningstar Dividend Investor newsletter provides in-depth analysis of Morningstar's dividend-select portfolios.
The goal of these portfolios is to produce return rates of 3%-5% by targeting businesses that: -are economically advanced -raise their dividends continuously -expand rapidly enough to outpace inflation
The dividend-select strategy is a way to help reduce losses by focusing on sustainable dividends.
The monthly newsletter will include an assessment of current events relating to a dividend-select strategy, reports, statistics, and analysis. Plus, an editorial on income-generating sectors, an analysis of significant dividend shares, and a list of stocks most likely to limit or eliminate their dividends are included.
Our Strategy in Action – Each newsletter reflects the portfolio activities of Morningstar, Inc., which are invested in a dividend-select strategy.
Free Investing Reports – The Morningstar Dividend Investment Guide is a good way to discover how dividends can help you make real cash returns. The Manual describes in detail the strategy chosen to identify the high-quality shares that tend to pay large, reliable, and growing dividends.
DividendInvestor Online is a companion website to Morningstar DividendInvestor. You can view the current issue and manage your email notifications and alerts.
The email alert will keep you informed if there are any changes in Morningstar's Dividend Select Portfolios. You can also subscribe for intra-issue analysis on current events related to Morningstar's dividend selection strategy and results, statistics, and research.
Subscription Pricing – For subscription, the quarterly price is $62.95 (3 months). You will have the opportunity to save up to $73 with the one-year option that comes at $199.
Get Dividend Investor by Morningstar
7. Stock Investor Newsletter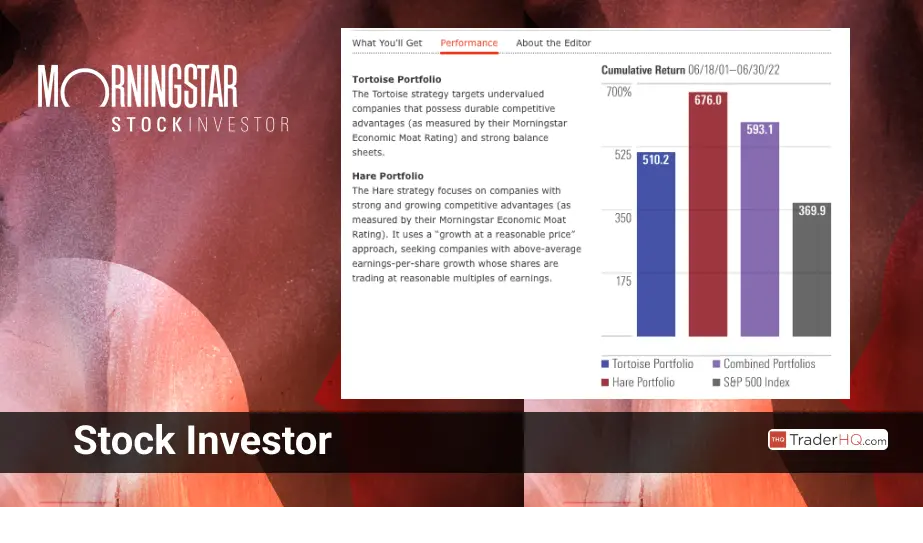 Morningstar StockInvestor highlights businesses that trade below their fundamental value. The Tortoise and Hare portfolios owned by Morningstar, Inc. are a clear demonstration of Morningstar's investment concept.
The Tortoise invests in company's with good balance sheets and sustainable competitive advantages, while the Hare focuses on company's with strong and increasing competitive advantages.
Each monthly newsletter includes commentary on the latest news regarding a comprehensive investment strategy, data and statistics published by Morningstar analysts, and additional research. Furthermore, a comprehensive corporate editorial, an analysis of major news events, and earnings data on the assets of Tortoise and Hare portfolios is included.
The Free Bonus is the StockInvestor Subscriber's Handbook. It offers an insight into Morningstar's stock evaluation process and aims to make subscribers aware of everything their new subscription offers. The Handbook also discusses the fundamental concepts of Morningstar's broad-based investment strategy.
The Market Outlook report provides quarterly insights on the economy and potential risks and opportunities across market sectors.
The On-line StockInvestor is a website that has the latest data on Morningstar's portfolios and watchlists. You can also download the latest issue before it comes in your mailbox.
E-mail Alerts – Log in to receive email updates when a trade takes place in the Tortoise or Hare portfolios. A weekly review of Morningstar Analyst Notes on the Tortoise and Hare holdings is also available to you.
Price of Subscription – For subscription, you can opt for the quarterly package at $62.95 (3 months). You can save up to 50% with the one-year plan that comes at $145.
Get StockInvestor by Morningstar
8. ETF Investor Newsletter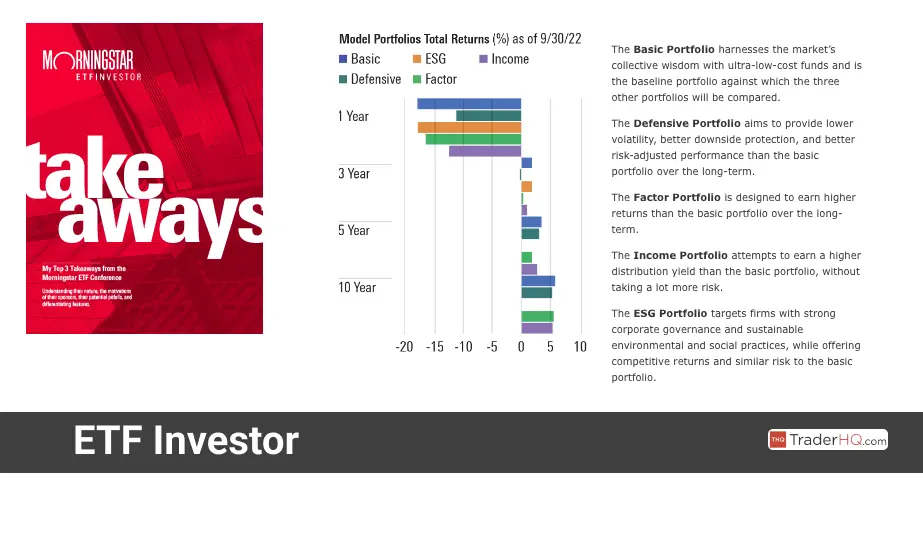 The Morningstar ETFInvestor team searches the global economy to find promising opportunities. The ETF analyst team of Editor Alex Bryan and Morningstar provide useful ideas for making ETF investments in the global marketplace.
ETFInvestor takes a look at the future potential of ETF investments. The team at Morningstar uses an extensive library of data to create a view of how the markets will develop. This strategy is put into ETFInvestor's 4 model portfolios.
The Basic Portfolio is the reference portfolio that will be used to judge the other three portfolios. It harnesses the collective wisdom of the sector with ultra-low-cost assets.
The Defensive Portfolio seeks to have lower volatility, greater protection against downside, and greater risk-adjusted returns than the traditional portfolio.
The Factor Portfolio is designed to outperform the standard portfolio over the long term.
The Income Portfolio is designed to generate returns that outperform the core portfolio while taking on less risk, as well as provide investors with an income.
Newsletters are published on a monthly basis and cover the analysis of ETFInvestor's model portfolios by editors. This includes evaluation and research on investment issues and performance reports. The team at Morningstar will provide a thorough analysis of sector-specific ETFs.
You can log in to the ETFInvestor website to easily assess the model portfolios' performance record, review reports from ETF analysts, view the entire ETF universe, and download the 12 most recent publications.
E-mail Alert – When a change occurs, you will receive an e-mail notification, which includes a rundown of the item and guidance on how to access it.
Price of Subscription – For subscription, the quarterly package is available at $62.95 (3 months). You can save up to 50% with the one-year plan that comes at $199.
Get ETFInvestor by Morningstar
9. Fund Investor Newsletter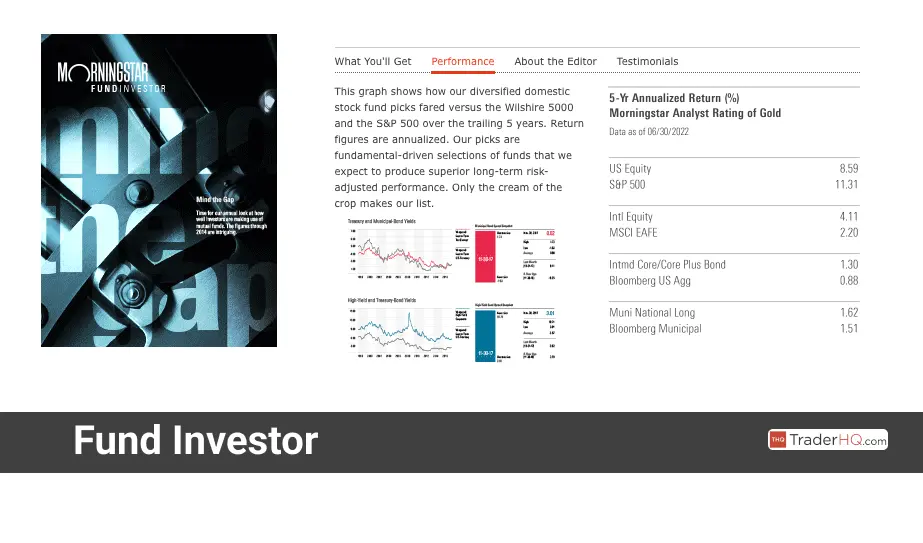 The Morningstar FundInvestor not only looks for competitive advantage funds, but also looks for competitive funds. If you want to find the proper portfolio allocations, let Morningstar share its expertise and impartial recommendations.
Each monthly issue of FundInvestor provides access to:
The FundInvestor 500 is a list of the top 500 performing funds, based on analysis of over 7,000 funds. The list includes monthly performance details to help you make investment decisions.
Additionally, you can get access to each fund's complete year-end Analyst Report 24/7. These are the same one-page reports that are included in 500 annual handbooks, which would cost $42.95. However, they are included in your subscription.
Fund Analyst Ratings: Analysts create a qualitative ranking for how funds are expected to perform over the long haul. Up to 150 funds have been given a Gold rating. You will also see which funds are listed with Negative or Neutral ratings.
The monthly feature "The Contrarian" challenges mainstream opinion to help you explore hidden investment angles.
Our Strategy in Action – Morningstar uses the world's widest mutual fund database to define the best strategies for sustainable investment success in its quantitative research. Through personal visits and telephone calls, the team performs extensive qualitative research.
This guide highlights the importance of keeping the core issues in focus. It covers performance drivers of the fund, such as the strategy, costs, and management.
The Morningstar FundInvestor website helps you view the latest issues and stay up to date on returns and news for your fund.
E-mail alerts: Stay up to date with Russel Kinnel's FundInvestor 500 and take part in major industry events. Turn email notifications on for timely posts from some of the brightest minds in investing.
The price of a subscription is $45.95 for 3 months, or $145 for one year.
Get FundInvestor by Morningstar
10. Betterment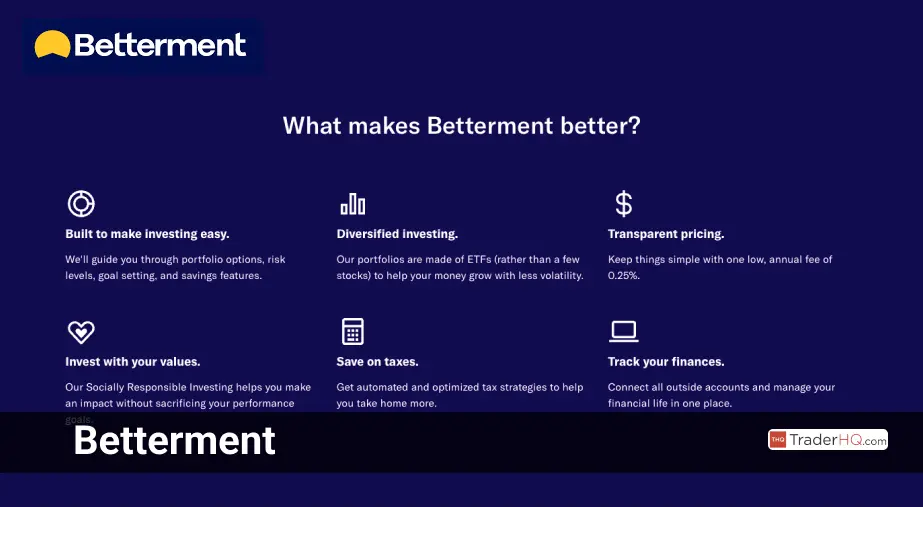 Betterment is a robo advisor service that charges a 0.25% annual fee, has no account minimums, and sets up a portfolio to match your goals. You can customize your portfolio to your liking, and Betterment will handle the rest.
What to Look for in a Stock Picking Service or Advisor?
When seeking a stock picking service or advisor, consider the following factors:
Examine the service's performance history: Although past success cannot guarantee future results, a consistent track record remains vital. Opt for a service with a lengthy history of outperformance relative to the market, using the S&P 500 as a benchmark, and one that is transparent about both its successes and setbacks.
Delve into the research underpinning their recommendations: A high-quality service should offer a solid investment thesis, supported by thorough research. Look for a service that highlights potential risks, enabling you to make informed decisions while considering the uncertainties inherent in stocks, company performance, and market trends.
Evaluate the additional resources provided: Beyond stock recommendations, a valuable service should supply insightful market commentary, educational materials, and regular updates on suggested stocks. These supplementary offerings can often justify the service's cost on their own.
Understand the service's investment philosophy: Many services follow a specific investment approach that shapes their research and recommendations. Comprehending this framework is essential to ensuring it aligns with your personal investment objectives.
More Stock Market Resources:
Did you know that...
'quantitative easing' is a monetary policy where central banks buy long-term securities from the open market to increase the money supply and lower interest rates?
Cagr is especially useful when comparing the growth rates of two investments over the same time period, as it gives a clearer picture than average annual returns?
Taxes can impede the benefits of compounding, so tax-efficient strategies or tax-sheltered accounts can help maximize compounding benefits?
Mohnish pabrai, a devoted follower of warren buffett, has a checklist-based approach to investing to avoid common mistakes and biases?
Companies with consistent dividend growth can be seen as financially stable and committed to returning value to shareholders?
Quotes of the Day:
"I like to invest in companies that have a strong management team." - Carl Icahn
"The best way to minimize risk in investing is to diversify your portfolio across different asset classes and sectors." - Steve Cohen
"The secret to investing is to figure out the value of something – and then pay a lot less." - Joel Greenblatt
"The best way to predict the future is to study the past." - Charles Brandes
"The best way to make money in the stock market is to invest in companies that have a strong brand." - T. Boone Pickens
*Disclaimer: Unless noted otherwise all returns are as of Dec 8, 2023. Past performance is no guarantee of future results. Individual investment results may vary. All investing involves risk of loss.
We provide general information, not investment advice. Some of the links on this page are affiliate links in which we receive a commission when a purchase is made.
$89 promotional price for new members only. $110 discount based on current list price of Stock Advisor of $199/year. Membership will renew annually at the then current list price.
$99 promotional price for new Rule Breakers members. $200 discount based on current list price for Rule Breakers of $299. Membership will renew annually at the then current list price.