The Best Stock Advisor Resources for Savvy Investors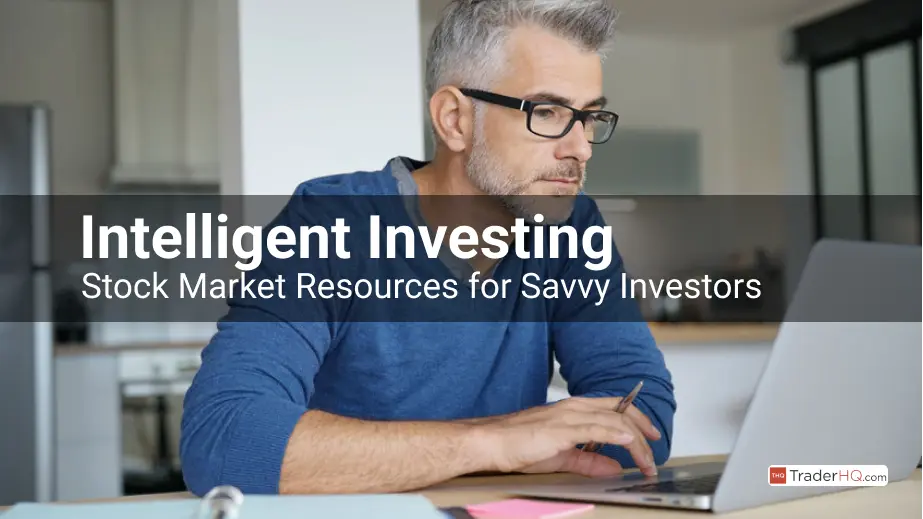 Here at TraderHQ we believe investing in equities for the long-term is one of the best ways to create wealth. We believe that by owning the right companies with a long-term focus can produce out-sized returns compared to the market.
We look for great companies with the following attributes…
Great leadership
Large addressable markets
High profit margins
Proven track record of growth
Recurring revenues a huge plus
We believe the individual investor with the right investing framework and discipline can have great success while saving significant money in management fees.
It is important to understand the companies you are investing in and perform your own due diligence. Using an investment research service can help save time and uncover opportunities you might not otherwise know about. See our page on best stock advisor websites and subscriptions for options to consider.
---
Motley Fool Stock Advisor
If you're looking to get started investing in the stock market, or just to improve your current portfolio then Motley Fool Stock Advisor is worth checking out.
What you get is a highly respected stock picking service with over 2 decades of experience and a track-record of market beating performance (roughly 3x the S&P 500).
The service is run by a seasoned team of analysts from the Motley Fool that provide two monthly stock pick to members. They've called called some of the best buys of our lifetime in Amazon, Netflix and Disney.
They lay out the research for each stock pick, including risks they are transparent about the performances of all picks with a scorecard that goes all the way back to 2002.
Click here to See the Latest Stock Advisor Picks (Sep 22nd, 2023)
The Stock Advisor team does the hard work of finding the great investment opportunities, doing the in-depth research and risk assessments and providing the buy recommendations to members.
All you need to do is buy the stocks from your brokerage account.
Overall Stock Advisor is a high value service costing just $89 for new members and comes with a 30 day membership fee back guarantee.
For more information on check-out our post on the best investment newsletters and stock picking services and our Motley Fool Review.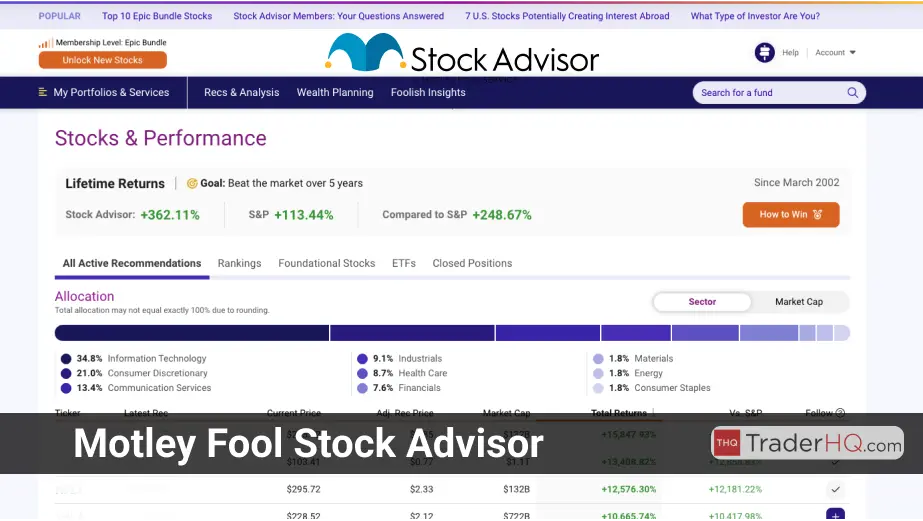 Click to Get Motley Fool Stock Picks Just $89/year (new members) (Sep 22nd, 2023)
---
Growing Your Wealth Through Compounding Returns
Building wealth is surprisingly more simple than we make it out to be. The first step is to understand how powerful compound interest is to wealth building and more specifically investing.
Compound interest accelerates wealth building in the short-term and supercharges it in the long-term. Your money earns interest and your interest earns interest, hence the compounding affect.
It's been said that Albert Einstein called compound interest the 8th wonder of the world and that ... "He who understands it, earns it, he who doesn't, pays it".
You see, compound interest can work in your favor or against you through debt. This is why eliminating debt is a key principle to building wealth through compound returns. Those would be debt payments can now be investments, which earn interest that compounds.
Let's look at a couple real-world examples of how simple the numbers really are.
---
What if You Invested $5000 Every Year?
Let's say you invest $5000 every year, into an S&P 500 index fund like VOO, IVV or SWPPX, which has produced roughly 10% annualized returns for decades.
Here's what the compound returns look like over time with an assumed 10% annualized return...
In the 1st year you'd earn $500 interest per year.
In the 3rd year, $1655 interest per year.
In the 5th year, $3053 interest per year.
In the 10th year, $7969 interest per year.
In the 20th year, $28,637 interest per year.
At this point your principal investment is just $100,000 ($5000 x 20 years) however your account balance has ballooned to $540,909 thanks to compounding interest.
In the 31st year you'll have over $1,000,000.
---
What if You Invested $10,000 Just One-Time?
Alternatively, instead of making a $5000 investment each year here's what a one-time investment of $10,000 looks like with an assumed 10% annualized return.
$67,275 in 20 years...
$174,494 in 30 years....
and $452,593 in 40 years.
That's nearly a half-million dollars from a $10,000 investment.
---
How to Take Advantage of Compound Returns
Start investing early – The earlier you start investing the sooner your investment will snowball.
Continue investing – The more frequently you invest the more interest you will earn. Invest what you can, when you can.
Hold – Hold on to you investment and allow the interest to earn interest.
Make wise investments – Interest rates matter and obviously the higher he rate the better your return. A 10% return over 40 years will build considerable wealth.
---
How to Get Started Investing in Stocks
Start with small investments and gradually increase your portfolio
Diversify your investments to minimize risk
Be patient and don't panic when the market fluctuates
Do your research and understand the company's you're investing in
Have a long-term investment strategy
Consult with a financial advisor if necessary
More Stock Market Resources:
Did you know that...
Tax-efficient investing strategies aim to reduce tax liability, maximizing post-tax returns?
Small, consistent improvements in any skill or habit, much like small, consistent financial contributions, can lead to significant growth over time due to a compounding effect?
Thematic investing focuses on macro-level trends, such as artificial intelligence or renewable energy, rather than individual companies?
Using visualization techniques, imagining various market scenarios, can mentally prepare you for actual market events?
Opportunity cost refers to the potential benefits an investor misses out on when choosing one alternative over another?
Quotes of the Day:
"The investor's chief problem - and even his worst enemy - is likely to be himself." - Martin Zweig
"The most successful investors are those who are able to control their emotions." - Jeffrey Gundlach
"Investing is not a get-rich-quick scheme, it's a get-rich-slowly scheme." - Leon Cooperman
"The stock market is a place where people make money by taking risks, but it is also a place where people lose money by taking risks." - David Dreman
"The market is a pendulum that forever swings between unsustainable optimism and unjustified pessimism." - Michael Burry
*Disclaimer: Unless noted otherwise all returns are as of Sep 20, 2023. Past performance is no guarantee of future results. Individual investment results may vary. All investing involves risk of loss.
We provide general information, not investment advice. Some of the links on this page are affiliate links in which we receive a commission when a purchase is made.
$89 promotional price for new members only. $110 discount based on current list price of Stock Advisor of $199/year. Membership will renew annually at the then current list price.
$99 promotional price for new Rule Breakers members. $200 discount based on current list price for Rule Breakers of $299. Membership will renew annually at the then current list price.