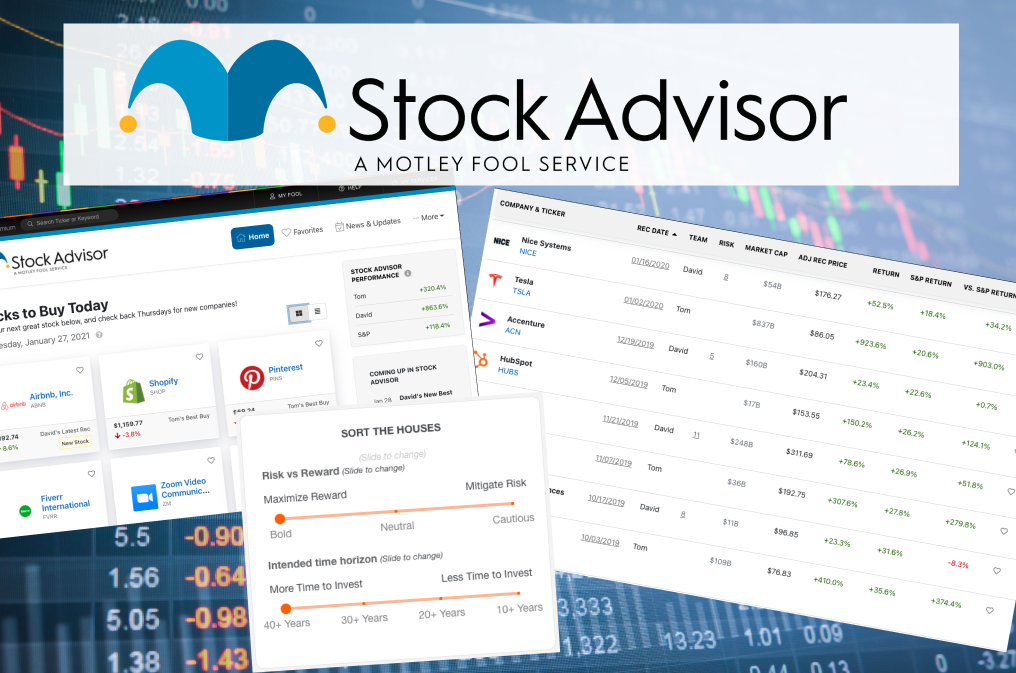 A Deep Dive into Motley Fool's Stock Advisor Service
Below I'll do a deep dive into the Motley Fool Stock Advisor service, breaking down the stock picks, investment approach and resources to help you decide if this Motley Fool service is right for you.
---
What to expect from Stock Advisor (quick summary)
Stock Advisor first launched in 2002, is now a time-tested stock picking service with 700k subscribers, with the average stock pick beating the market by 4x.
Subscribers are equipped with everything they need to build a high quality, growth portfolio, including an investment framework, philosophy and the actual stock picks.
Members receive two new stock recommendations each month, each with a research report on why to buy and the potential risks.
Stock Advisor typically recommends large or mid-cap, high growth stocks from various sectors including technology, healthcare, finance, occasional consumer or industrial picks.
Stock Advisor recommends holding a stock for a 3-5 year minimum and to own at least 15 stocks in your portfolio.
"Starter Stocks" are provided to all members, making it easy for new investors to build a diversified, long-term focused, high growth potential portfolio from scratch.
Stock Advisor might not be right for you if you're a day trader, want low volatility or dividend stocks.
Stock Advisor does not require a huge time commitment, at a minimum maybe a few hours per month to read the recommendations and buy the stock if you choose.

Stock Advisor Costs $99/year for new members and comes with a 30 day risk free period, where you can get a full refund.
Click Here to See the Latest Stock Advisor Picks (Jul 27, 2021)
Motley Fool Stock Advisor
Stock Advisor: A Motley Fool stock picking service focused on high growth mid to large-cap stocks.
Best Picks:

Netflix (NFLX) +26,507%, Amazon (AMZN) +20,951% & Booking Holdings (BKNG) 9,526%
Worst Picks:

Charlotte's Web (CWBHF) -83.9% & Luckin Coffee (LKNC.Y) -83.7%
Next Pick:

Thursday May 20th, 2021
Results:

Average Return = 539.8% vs S&P 129%
---
Motley Fool Stock Picks
Stock Advisor has had some huge winners over the years. A $500 (each) investment in these top Stock Advisor picks would be worth $365,404 today.
| | | |
| --- | --- | --- |
| Motley Fool Stock Advisor Picks | Return | Return on $500 Investment |
| Netflix (NFLX) | 26,055% | $130,273 |
| Amazon (AMZN) | 20,488% | $102,438 |
| Tesla (TSLA) | 9,163% | $45,817 |
| Booking Holdings (BKNG) | 9,062% | $45,309 |
| NVIDIA (NVDA) | 8,314% | $41,568 |
Keep in mind that while those are top performers from the Stock Advisor portfolio the average return is 540% which is 4.3x the market.
1,319% Return in Last 5 Years with 5 Stock Advisor Picks
Let's take a look at 5 picks from the last 5 years with an average return of 1319%. The top performing pick, Shopify (SHOP) is up 33x, making a $500 investment worth $16,268 today.
Shopify (SHOP) – up

+3,254%

Match Group (MTCH) – up

+1,389%

The Trade Desk (TTD) – up

+693%

Okta (OKTA) – up

+673%

Tesla (TSLA) – up

+586%
Part of the Stock Advisor investment philosophy is to continue adding to your winners. In the case of Shopify (SHOP) that advice has produced an additional $81,340 return just by adding $5000 half-way through the run up to the initial $500 investment.
Click Here to Try Stock Advisor (Jul 27, 2021)
---
Q4 2019 – Motley Fool Stock Advisor Picks
The Q4 2019 Stock Advisor picks beat the market by 2.8X with an average return of 124% compared to 44% for the S&P500.
| | | |
| --- | --- | --- |
| Stock Advisor Picks (Q4 2019) | Rate of Return | Return on $500 Investment |
| Accenture (ACN) | 37.2% | $186 |
| HubSpot (HUBS) | 218.0% | $1090 |
| Netflix (NFLX) | 55.6% | $278 |
| The Trade Desk (TTD) | 161.9% | $810 |
| Neurocrine Biosciences (NBIX) | -4.8% | -$24 |
| Zoom Video Communications (ZM) | 277.1% | $1386 |
---
What Do You Get with a Stock Advisor Subscription?
Stock Advisor of course offers stock picks and recommendations but it also offers a complete ecosystem of investing resources. The list of everything including in a Stock Advisor subscription is long.
In short you get 40+ hours of exclusive live streaming content per week, daily podcasts, investment tools, research reports and daily market coverage with sage advice on current events impacting our investments.
Here I'll go through everything you get access to with a subscription.
New Stock Picks (Bi-Weekly)
New stock picks are released every other week and each stock recommendation comes with a "Buy" report providing the research and reasoned thesis for the recommendation. This thesis includes…
Overview of the company's business.
Analysis of the business model
Analysis of the growth potential
What they like about the company
Why Invest Now
Potential Business Risks
Here's what an actual recommendation looks like.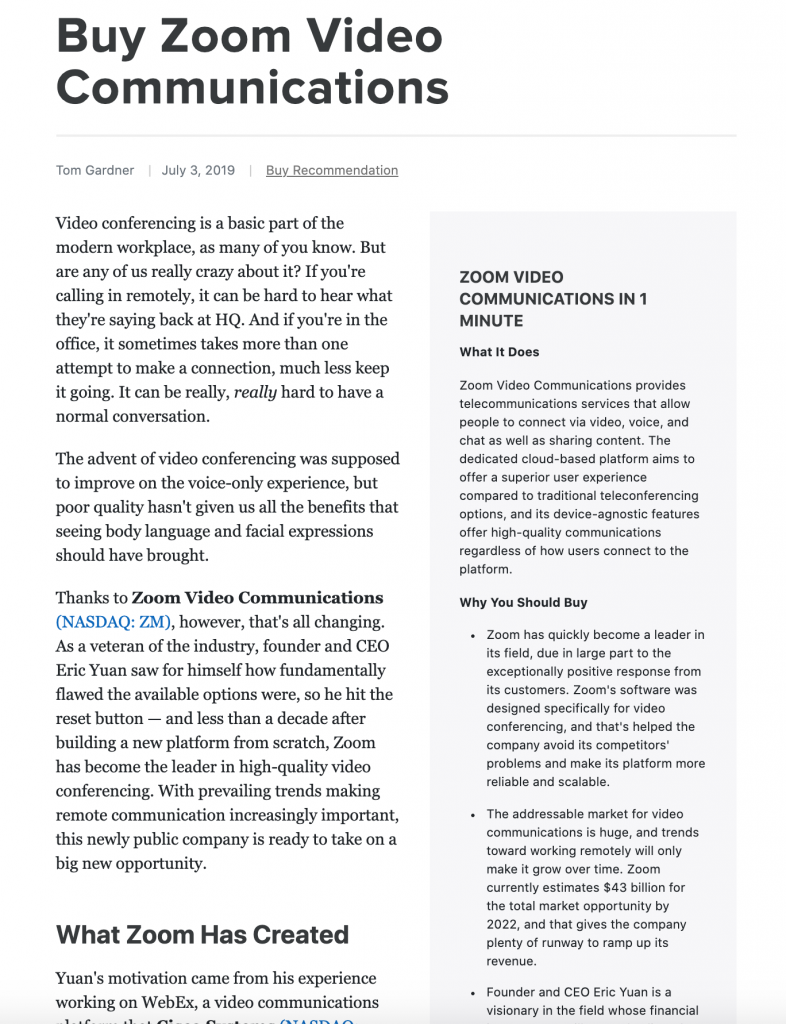 "Starter Stocks" for New Portfolios
Stock Advisor recommends a portfolio contain at least 15 stocks, not only for risk diversification but also to maximize growth potential.
"Starter Stocks" are a list of 10 stocks that are meant to be an anchor to a Stock Advisor portfolio. They are picked based on their ability to weather downturns and also provide long-term growth. These are high confidence picks, with room to grow and a proven history of success.
New investors are advised to begin building out their portfolio with at least 3 of the starter stocks while patiently building up to at least 15 stocks, which will come from a combination of new recommendations and the bi-weekly "best buys now".
Click Here to Try Stock Advisor (Jul 27, 2021)
Best Buys Now (Bi-Weekly)
Every month, the Stock Advisor team reviews the active stock recommendations and releases a list of 10 stocks which present the most timely opportunity. This is one way for investors to dollar cost average into some winning stocks already in their portfolio or to invest in a new stock.
These picks are not really based on stock price movement, but rather updated confidence in the company, its market and prospect for growth. Hence these stocks are meant to guide long-term positions in the highest conviction Stock Advisor picks.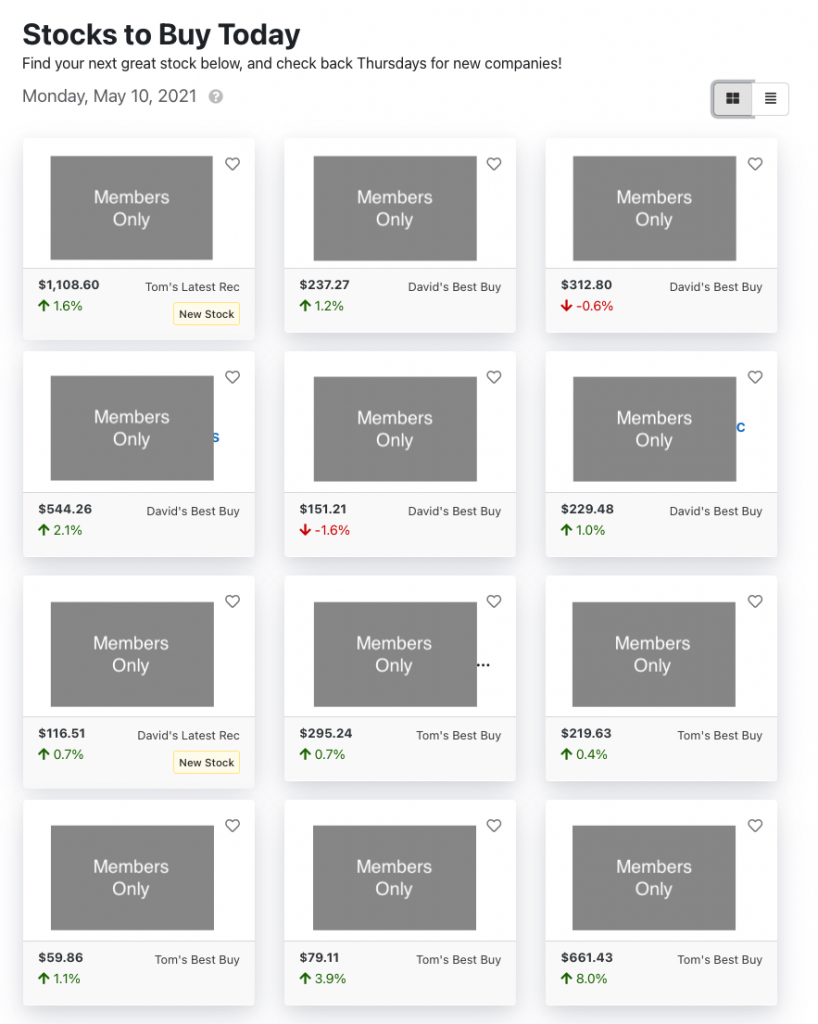 Scorecard for Stock Picks
Stock Advisor firmly believes in learning from both the losers and the winners and that keeping score is very important. With that philosophy in mind the service has always been built on transparency about all the stock picks, including the worst ones, which is where the Stock Advisor scorecard comes in.
The scorecard is a complete record of every stock pick since 2002 which includes the date of recommendation, returns and link to the original buy recommendation. From here you can easily keep track of stock advisor portfolio and access all the stock picks.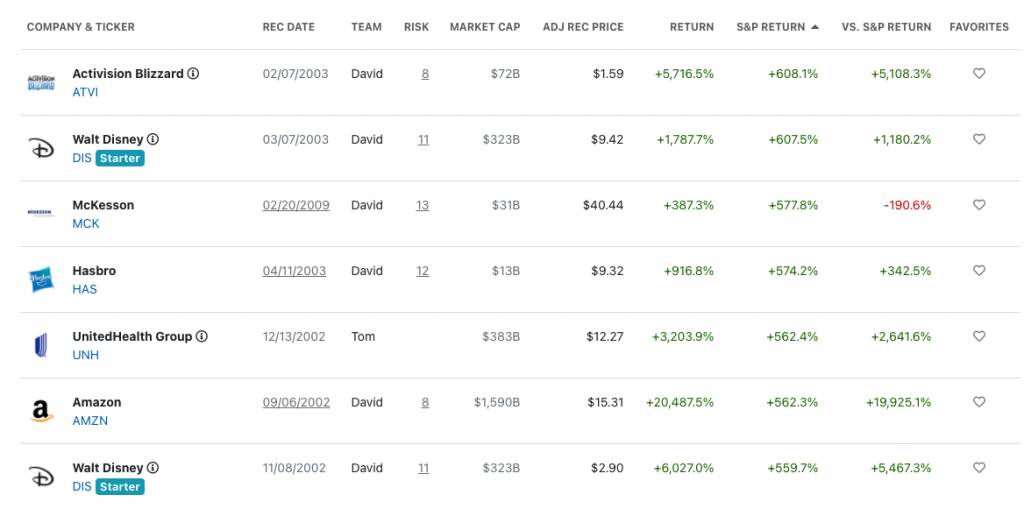 Company Profiles
From the scorecard members can also access a full historic profile on each company which is a hub of all the content and coverage, past and present on the stock.
Growth Trends vs. S&P 500
Buy Recommendations
How many Motley Fool members favorited the stock
Percentage Rating of those thinking the stock will outperform the market
CEO Rating
News Timeline with all the coverage of the stock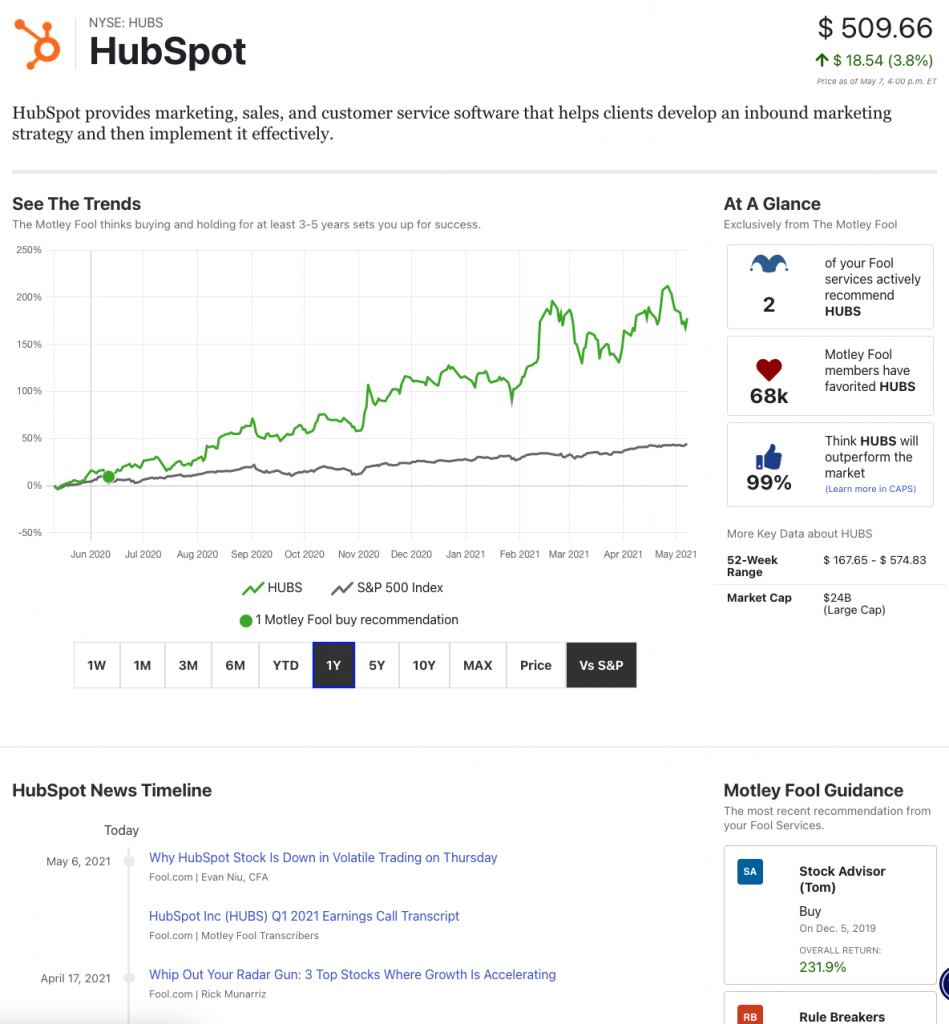 Daily Live Webcasts
Motley Fool Live is a daily live stream (9am to 5:30pm ET) which is exclusive to Stock Advisor members. The live stream covers all types of helpful investing content from current events, to CEO interviews, deep dives on stock picks, Q&A's and more. There is really a lot of value here for those that are eager to learn.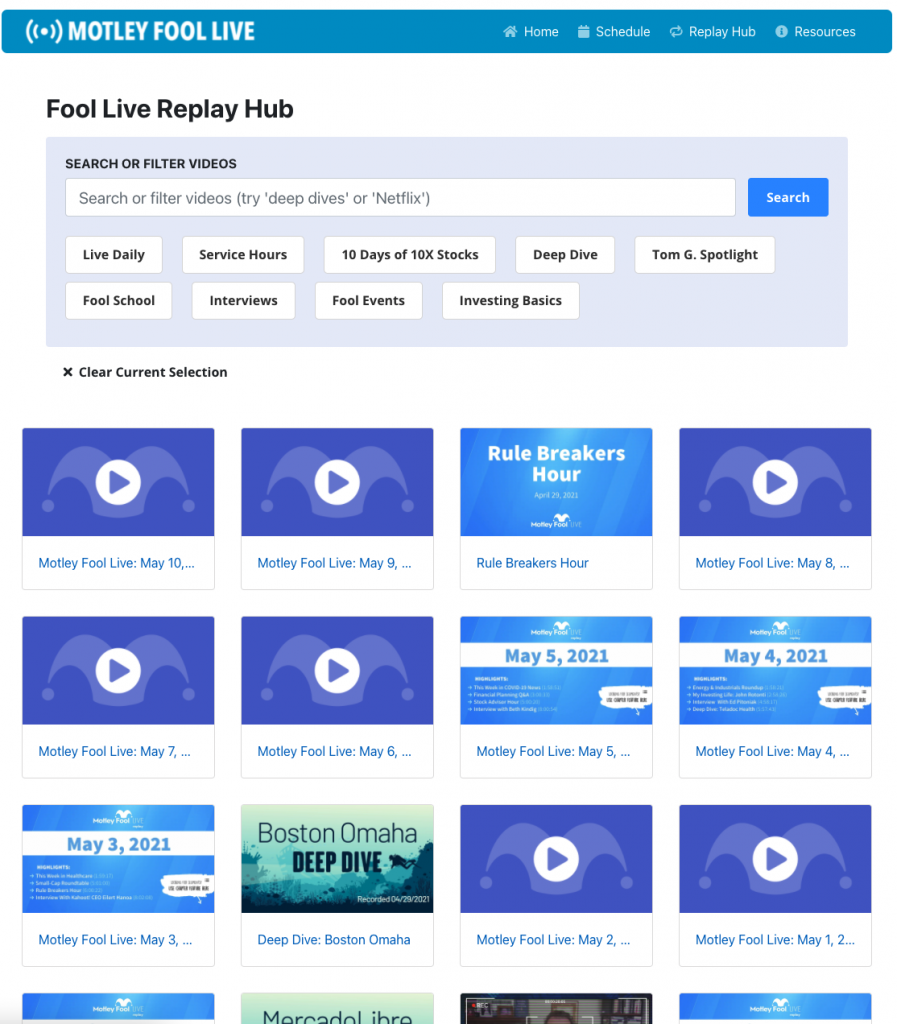 Premium Reports
Stock Advisor offers premium reports covering emerging, high growth trends and investment opportunities. These are often the companies you see The Motley Fool teasing in their advertisements.
One Stock for the Cannabis Boom

– A backdoor play into marijuanna investing. The "Amazon of Canada".

1 Stock for Cable TV's "Ticking Time Bomb"

– Both Tom and David agree on this "All In" stock which is a pioneer in the advertising industry.

Tom Garnder's Double-Down Stock

– "I'm Betting $523,111 on this one stock", a small california company disrupting the world of high-speed data.

5G On the Launch Pad

– This tech could be worth $17 trillion by 2035.

Autonomous Vehicles, Not Just Sci-FI Anymore

– 3 Stocks Taking on the Booming AV market.

Triple-Buy Alert: The Tiny Stock That Could be the Next Berkshire

– "This stock reminds us of a mini-Berkshire Hathaway".

AI Disruption Playbook

– A $19 trillion market, "bigger than the internet", "worth 35 Amazons" and create the "world's first trillionaire".

The Next Amazon.com

– 4 e-commerce stocks and one company which could be the next Amazon.

One Stock for the Self-Driving Revolution

These premium reports and more are available to all Stock Advisor members.
Click Here to Try Stock Advisor Risk Free for 30 Days (Jul 27, 2021)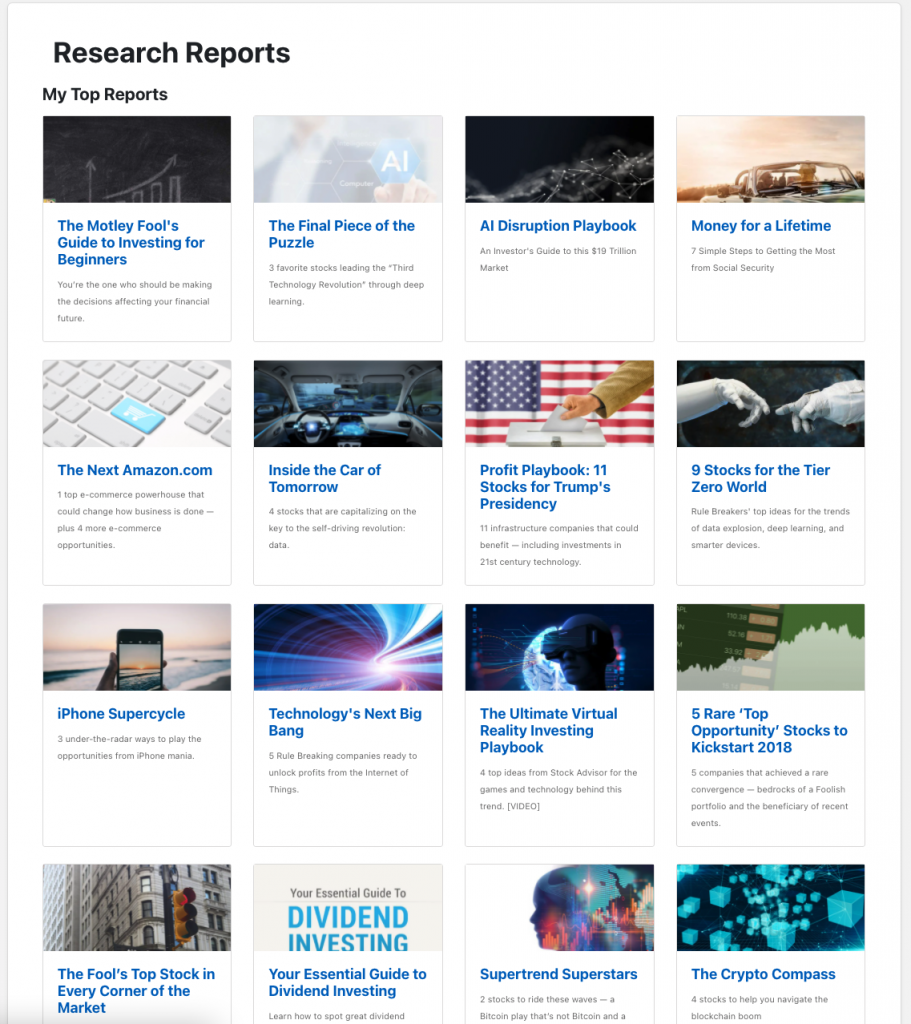 Monday Briefing Email
Every Monday subscribers receive a "Monday Briefing" email covering a recap of the previous week's notable news and stock action and what to expect in the week ahead. This is an easy way to stay on-top of anything important related to any of the Stock Advisor stocks.
Investing Education
One of the most understated aspects of a Stock Advisor subscription is all the investor education they provide. This is particularly invaluable to new investors as we all have so much room to grow in our knowledge of investing and how to handle the ups and downs of the market.
Here are some of the latest practical investing mindset articles which are published weekly.
Why the Stock Market Is Geared Toward Optimists
The Biggest Risks Are Where You Aren't Looking
Why It's Hard to Buy Stocks in a Plunging Market
3 Ways to Invest More Safely
Your Survival Guide for When a Stock Falls Right After You Buy It
What You Need to Know About Taxes in 2021
Should You Trim a Big Winner or Let It Run?
How to Take the Next Step With Your Investing
A Look Back at the Coronavirus Market Crash, 1 Year Later
Investing Tools
Stock Advisor continues to add more features and the simulator tools are some of the latest additions. Currently members have access to two simulator tools which are based on the historical stock picks from the Stock Advisor service between 2002 and 2020.
Tool to Simulate the Probability of Positive Returns
Input the number of stock you wish to hold and your holding period and the simulator will show you the average return and the likelihood of a positive return.
Scenario 1: 15 stocks,

held for 5 years

, have a

94.8%

likelihood of a positive return with an average return of

68.9%

.
Compared to…
Scenario 2: 15 stocks

held for 3 years

, which has a

85.9%

likelihood of a positive return and an average return of

34.4%

.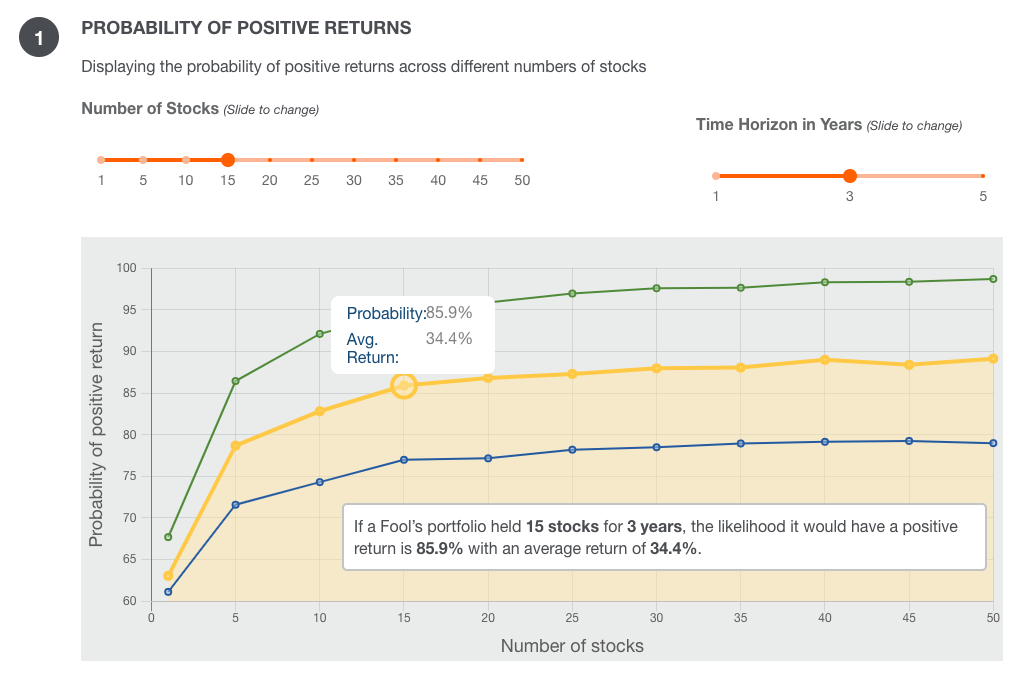 Tool for Profit Value Simulation
Long-Term Scenario (5 Years): $100k portfolio with 15 stocks and a 5 year holding period.
Worst = -8.9% Return ($91,084)
Average = 68.9% Return ($168,876)
Best = 225.9% ($325,920)
Let's compare that same portfolio but change the holding period to 1 year. Again keep in mind that Stock Advisor is built on a long-term investing approach and they recommend holding for at least 3-5 years.
Short-Term Scenario (1 Year): $100k portfolio with 15 stocks and a 1 year holding period.
Worst = -36% Return ($63,972)
Average = 11.4% Return ($111,384)
Best = 53.6% ($153,587)

This helps illustrate the benefit of long-term investing and that even market-beating portfolios, such as the Stock Advisor portfolio can experience short-term declines and volatility, that is to be expected and experienced investors know this.
The true measure of a Stock Advisor performance is not if a pick increases 50-100% in the first year but really how much it grew in the 3-5 year time-period, that is where you can see 3x, 5x and 10x or more gains.
Those are called multi baggers and they are what we shoot for in active investing. That is how Stock Advisor can consistently out-perform the market, because the gains from the multi-baggers far outweigh the worst performers.
Click Here to Try Stock Advisor (Jul 27, 2021)
Portfolio Construction Tool – Asset Allocation
Stock Advisor recently released a tool to help determine the right type of portfolio and asset allocation based on your personal investing goals, factoring in your time horizon and risk tolerance.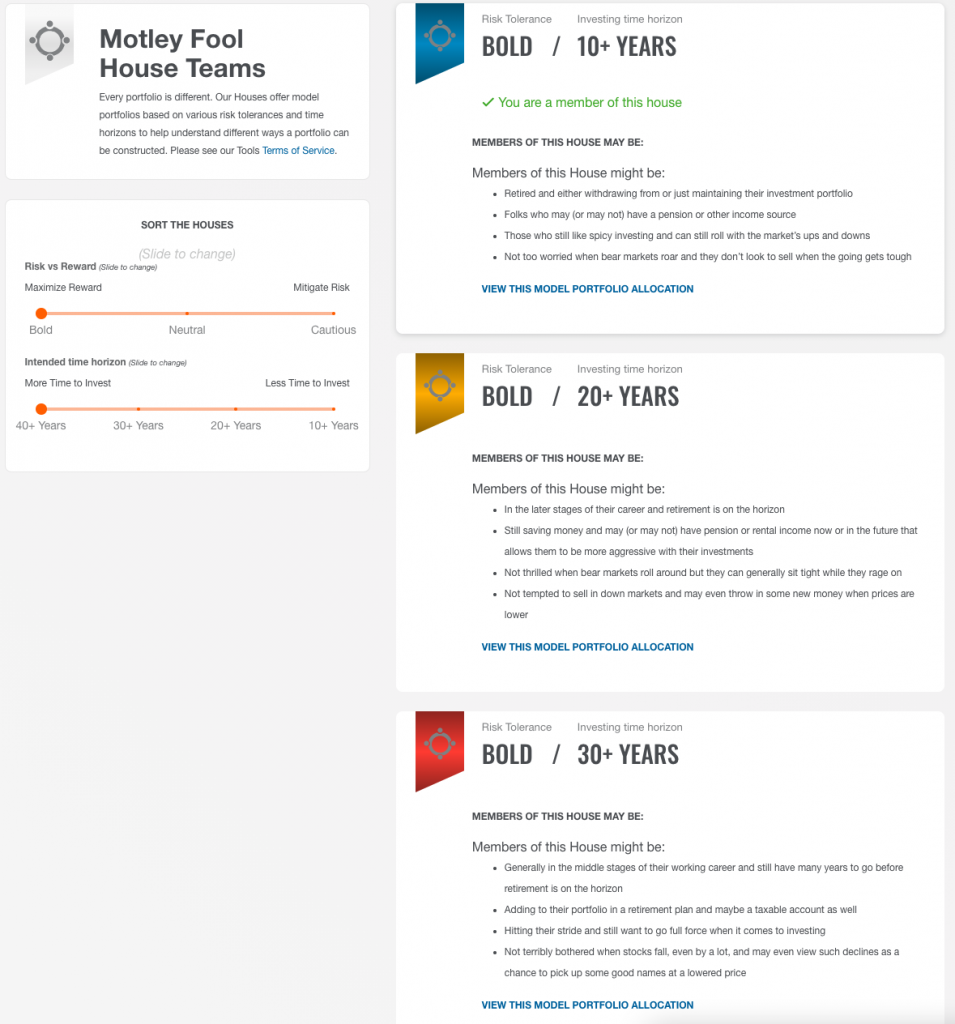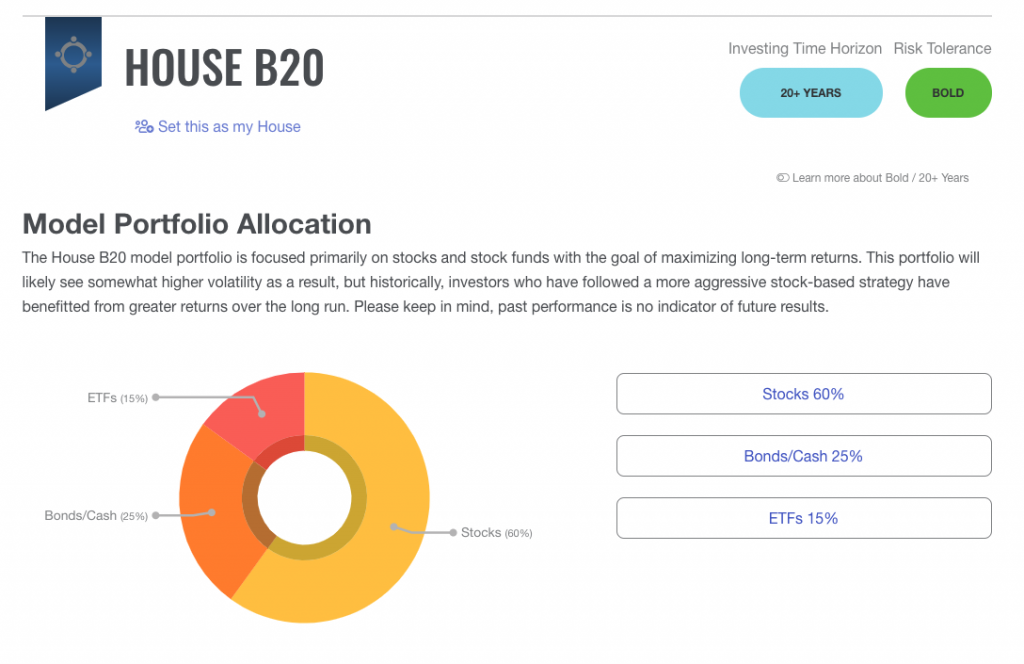 Motley Fool Podcasts
The Motley Fool has 5 separate podcasts that stream daily to weekly. These are excellent free resources for those interested in growing as an investor, develop greater understand of the stocks and markets they are investing in.
Motley Fool Money – Weekly podcast covers business news, financial headlines and the impact for the stock market.
Market Foolery – Daily podcasts with general stock market and business coverage.
Industry Focus – Daily podcasts where Motley Fool analysts cover one industry and breakdown the noteworthy news and stocks.
Motley Fool Answers – Weekly podcasts from Alison Southwick and Robert Brokamp covering all things personal finance and how to make smart money moves.
Rule Breaker Investing – Weekly podcast from David Gardner sharing his wisdom into the most innovative and disruptive companies.
---
How to Maximize Success with Stock Advisor Investing
One of the great things about Stock Advisor and the Motley Fool is that they have a strategic, approach and philosophy to investing, which they do a great job of teaching in the service.
Stock Advisor Recommends to…
Buy at least 15 stocks, working up to 25-30.
Plan a three to five year or longer holding period.
Regularly add savings to the portfolio.
Be ready for stock declines and pounce on them.
Expect excellent returns over a 10-25 year horizon.
Stock Advisor things NOT to Do…
Don't hold fewer than 10 stocks
Don't focus on short-term returns
Don't invest everything in stocks
Don't buy stocks with borrowed money
Don't buy penny or dollar stocks because they are "cheap"
Don't expect every stock to go up
Don't use options during your first year
You should expect that if you are new to investing and you don't follow those investing prescriptions you may be disappointed with Stock Advisor.
Click Here to Try Stock Advisor Risk Free for 30 Days (Jul 27, 2021)
---
What Types of Stocks does Stock Advisor Recommend?
Stock Advisor recommends stocks from many sectors, including tech, healthcare, finance and consumer. The predominant focus is on mid-cap and large-cap growth and blue-chip stocks.
The majority of recommendations are U.S. based companies, many that have international exposure and some that are international companies listed on the U.S. stock exchanges.
Stock Advisor seeks to find companies with high growth potential over the next 5+ years, a durable competitive advantage and solid management. They do not recommend dividend stocks, penny stocks, day-trading stocks or cyclical stocks. They really focus on growth stocks.
Mindset and Expectations are Important
Nobody likes to see a stock they just invested in go down. Some can handle that and some can't. To be a successful, long-term investor you have to learn that in the short-term stocks can be irrational, volatile and unpredictable… however in the long-term they are predictable.
It's important to have the right expectations with regards to how the stock market has historically behaved and how even the best stocks, have turbulence on the way to their massive growth.
The historical norm for the stock market is to see a…
5% drop, three to four times a year.
10% drop, about once a year or so.
20% drop, about every four to five years.
30-40% drop, about once every decade.
Individual stocks will have more volatility than the broader market. As you can see it's actually normal to have declines. In-fact great investors who are ready to invest on the dips can dramatically improve their returns.
Motley Fool co-founder David Gardner invested in Activision Blizzard in 2002, after which the share price got cut in half. Instead of cutting his losses, he instead doubled down and has achieved over a 41x return.
Being able to make those decisions takes conviction about your investments and the knowledge of how the stock market performs over-time. Stock Advisor is great because we can learn directly from the experiences of top investors which is really an invaluable part of being a Stock Advisor member.
Stock Advisor Investing Tips to Follow
Buy the businesses, Not Tickers. Don't blindly invest in a trending industry or company… look for great businesses with a strong balance sheet, good future and an excellent management team that can generate shareholder value for the long-term.
Be a lifetime investor. Capitalism leads to thriving industries. Invest and keep track of your investments, earnings reports and become well versed in the industries you invest in.
Build a diversified portfolio. Protect against unforeseeable events through a diversified portfolio.
Think for yourself & don't follow the crowd. Go fishing where others are not and think for yourself.
Don't let emotions get involved. Stock fluctuations can happen daily for many reasons so don't let emotions affect decision making. A good stock that's down is a good opportunity to buy.
Keep track of results. Every Stock Advisor pick back to 2002 can be tracked on the website. Accountability and transparency matters.
Have fun. Contrary to popular belief, investing doesn't have to be left to the professionals. You can do it and even do it better and have fun doing so.
Click Here to Try Stock Advisor (Jul 27, 2021)
---
Motley Fool Stock Advisor FAQ
Click Here to Try Stock Advisor (Jul 27, 2021)
»RELATED: Best Stock Advisor, Rule Breakers, Latest Motley Fool Stock Picks