Traders rely on stock charts more than any other single type of analysis. With a vast amount of information summarized in a single graphic, stock charts can provide insights into everything from long-term trends to short-term reversals. Traders combine these insights with other tools, like technical indicators or fundamental ratios, to identify promising trades and generate high risk-adjusted returns.
In this article, we'll take a look at 10 tips that every trader should keep in mind when trading a stock chart.
#1: Consider Multiple Timeframes
Traders should consider multiple timeframes when evaluating stock charts in order to identify both short-term and long-term trends. Often times, looking at a 1-day or 1-month chart shows a very different trend than a 1-year or 5-year chart. Long-term charts can provide an idea of where a stock is headed over the long-term, while short-term charts can be used to find specific entry and exit points.
#2: Don't Ignore the Volume
Traders should use volume in conjunction with price when analyzing stock charts in order to quantify market sentiment. In general, traders should watch for strong price movements accompanied by high volumes as a confirmation. A large price swing without accompanying high volume can be discounted as temporary, but a large price swing on high volume can signal a reversal or strengthening of a trend.
#3: Default to Candlestick Charts
Traders should use candlestick charts as their default chart type, since they provide a lot more insight than simple line charts. In fact, some traders focus exclusively on candlestick patterns when making trades given the high amount of information that can be instantly gleaned. Candlestick charts show a combination of open, high, low, and close data in a format that easily shows up and down days at a glance.
Learn more about Candlestick Patterns in: Visual Guide to 8 Candlestick Patterns Every Trader Must Know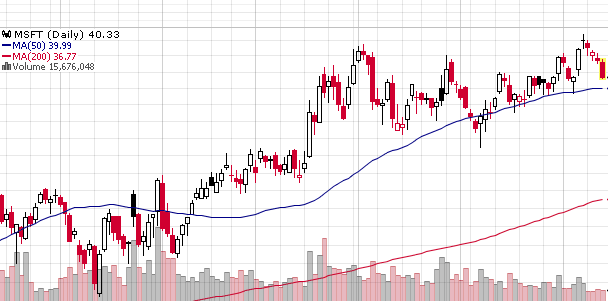 #4: Learn Major Chart Patterns
Traders should be aware of the major chart patterns when analyzing stocks, including ascending/descending triangles, wedges, channels, and head-and-shoulders patterns. By learning these patterns, traders can easily determine potential entry and exit points as well as support and resistance levels. Traders can use these patterns as a starting point for further research and idea development.
#5: Supplement Price with Averages
Traders should look at moving averages more so than daily or real-time prices when determining trends. By measuring the average price over a specific period of time, moving averages provide a smoother gauge of where long-term and short-term trends are heading. Traders can also use a number of technical indicators that rely on moving averages for further analysis, such as MACD indicators.
#6: Measure Trend Strength
Traders should consider the strength of trends when validating them, using technical indicators like the RSI. By measuring the speed and change of price movements, the relative strength index provides insights into the strength of a move upwards or downwards in price. The ADX indicator also provides a measure of strength using what's called the Directional Movement Index.
#7: Be Wary of Support & Resistance
Traders should always know where the next support and resistance levels are, whether they come in the form of trend lines, pivot points, or prior highs. These levels represent potential areas of trend reversal or sideways price movement, while a breakout from them could lead to significant moves higher or lower. In many cases, traders also use these points for stop-loss or take-profit points.
For more, check out our Ultimate Guide to Technical Support Levels
#8: Watch for Market Cycles
Traders should use charts to identify cyclical behaviors using tools like Elliott's Waves or Wolfe Waves. In many cases, these techniques can be used to identify predictable patterns that recur over various timeframes. While these patterns are far from a guarantee, they can help increase the odds of a profitable trade when used in conjunction with other forms of technical analysis.
#9: Be Mindful of Gaps
Traders should carefully watch gaps – or areas without any trades – given their psychological implications. For example, a gap up might be closed in future trading before a significant move higher. Gaps are usually a psychological reaction (or overreaction) to a fundamental event, which the market usually re-evaluates at a later date before making a final long-term trend decision.
#10: Keep on Learning
Traders have access to many different tools to assist in chart analysis, ranging from Gann lines to Fibonacci studies. All of these tools can be very useful when developing a basis for a trade, since they combine to form a cohesive story of what's happening. Traders should always be learning new tools and trying new techniques to keep ahead of the competition and enhance the odds of success.
To start learnings, check out 50 Blogs Every Serious Trader Should Read
The Bottom Line
Charts provide traders with numerous insights at a glance, which has made them extremely popular in the financial markets. With many different techniques and indicators available, traders should familiarize themselves with several basic concepts, such as trend lines and moving averages. Traders should also try to keep up with the latest new techniques in order to keep ahead of the competition.