Implementing a strategy takes practice. Like learning a new sport, getting better at something requires hands on work, not just theoretical knowledge. Whether it's from courses, books or videos, potential traders are bombarded with information, and stock market games allow you to see what works and what doesn't. You'll see your account grow or fall, giving you feedback on how you are trading, but without risking any money. In a stock market game you trade with "virtual currency" or play money, so it is a fun safe environment to learn.
Stock market games help develop trading strategies, but they don't prepare traders for the psychological pressure of having real capital on the line when trading. Stock market games are a good way to get acclimatized to trading and developing strategies, although they can never precisely mirror real trading conditions in the live market with real capital.
1. Thinkorswim PaperMoney
Access all the tools of the professional level trading platform, funded with $100,000 in play money. It's a great way to explore the many tools of the Thinkorswim platform.
Day trade, swing trade or invest, as charts update in real-time. Build watch lists and set alerts for breakouts. Trade options, futures, stocks and forex. Use hundreds of indicators to analyze markets, or even build your own. It's risk free and the account doesn't expire, so you can use it to monitor stock prices or analyze your portfolio anytime.
A download and free sign-up is required.
For those brand new to investing and trading the Thinkorswim platform may be a bit overwhelming. For a simpler, more game-like environment, check out the TD Bank Fantasy Stock Market Game. The game gives $100,000 to invest and trade on U.S. exchanges, and shows player rankings.
2. Investopedia Stock Simulator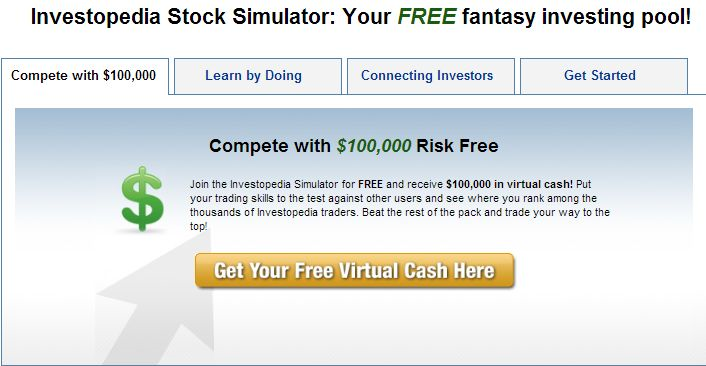 As one of the largest financial education sites in the world, Investopedia gives you the opportunity to connect and collaborate with more than 700,000 investors worldwide. See how they are trading and compete in competitions.
Join current games or create your own. You trade via the website so there is no download, although this means not as many bells and whistles as with the Thinkorswim platform.
Place market orders, limit orders, stops and determine how long your orders will stay out in the market [see also Top 21 Trading Rules for Beginners: A Visual Guide].
3. MarketWatch Virtual Stock Exchange
Trade stocks in real-time using virtual currency, with no risk of loss. Trade on your own, or join competitions to trade your way to the top. Discuss strategies and tactics with other traders.
The games you create can be fairly specific, such as only allowing certain stock symbols to be traded.
MarketWatch is also a great news source so you have immediate access to recent market data and professional trader insights.
4. Virtual-Stock-Exchange

One of the most globally diverse stock market games, virtual-stock-exchange allows you to trade stocks on more than 30 global exchanges, such as New York, London, Argentina, Mexico, Bombay and Sydney.
Also, you are able to choose your type of currency deposit: peso, yen, pound, yuan, Canadian or US dollar, Indian rupee, Australian or Singapore dollars. This allows traders around the world to trade various markets in their own currency or in a foreign currency. If trading in a currency other than your own, remember you'll need to convert those funds to your own currency to realize your profit. Currency exchange rates also fluctuate, adding an additional element of potential risk and reward.
Used by teachers and professors, create your own game to compete against your class or friends, or join public games.
North American and Bombay Stock Exchange prices and executions occur in real-time, although for other international markets data may be delayed 15 to 20 minutes.
5. How the Market Works
Trade multiple assets including foreign exchange (currencies), penny stocks, ETFs and mutual funds in the U.S. and Canada. Go long or sell short without restriction.
Start with as much cash as you want—to simulate your personal circumstances—from $100 to $500,000. Get real-time quotes and execution on most stocks. Juggle multiple portfolios to compare strategies or performance in each.
One limitation is that dividends and stock splits are not updated automatically, which can cause substantial variance in performance compared to the performance of the real stock. You need to contact the site to get an adjustment for splits or dividends.
6. Wall Street Survivor
Creating portfolios and buying and selling stocks is part of a larger educational suite of free products. Access investing and trading courses, join leagues to strut your prowess or seek guidance from others, view thousands of articles and videos in the library or discover timely trade ideas.
Easy to understand courses and quizzes guide you through income, value and small cap investing, as well as stock market basics and business analysis.
Quickly make trades and see your weekly and lifetime returns when you log in, as well as your top performing holds [see also Moving Average Trading Strategies: Do They Work?].
7. UpDown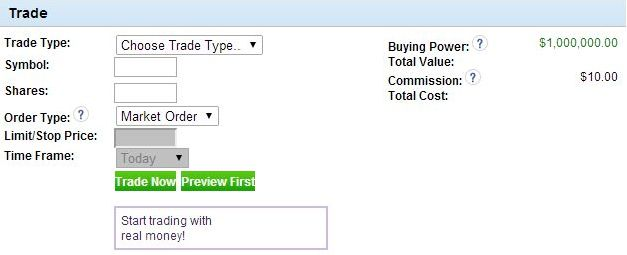 See stocks that have been bought and sold the most by other traders, as well as compete for real cash while growing your $1 million play money portfolio.
Join monthly and yearly performance contests to earn cash. Beat the S&P 500 to earn real money; top monthly performers make $500. You can also make real money by referring friends. If your friends enter contests and make real money, UpDown gives you a cut.
The UPDown stock market game works on U.S. equities and the data is typically delayed, although your orders will go through at the prevailing real-time price.
There is a community and discussion board so you can see and read what others are doing, as well as ask questions.
8. QuestTrade Demo
Similar to the Thinkorswim platform, QuestTrade also offers a free demo account. This provides you access to live quotes and a professional level trading platform, with lots of technical analysis tools and charts.
Trade stocks, options, foreign exchange or contracts for difference (CFDs) with a $50,000 or $500,000 play money account.
The one drawback is that the demo account expires after 30 days [see also 4 Ways To Exit A Losing Trade].
9. Yahoo! Finance Portfolio
Not technically a game, but if you want to avoid all the hoopla and just pick some stocks, Yahoo! Finance allows you to build and track portfolios for free.
Yahoo! Finance is one of the most comprehensive financial sites in the world, providing coverage of global markets with real-time quotes on nearly any financial product.
Create your portfolio by adding stocks you would like to buy. Click edit to input how many shares and the purchase price. This part is manual, so you can select any price or quantity you want, but if you want an accurate representation of performance, be honest when inputting a purchase price.
This tool is more of a portfolio tracker than a game, but since your portfolio is linked up to Yahoo! Finance, clicking on a symbol in your portfolio provides you with relevant data such fundamentals, trading ranges, volume and a price chart. Create different portfolios to track different types of trades and stocks.
10. Chart Game
This is a whole different take on trading games. In this game "the computer will present you with a random historical stock chart of an actual large cap (S&P 500) security, without telling you which company and time period the chart represents."
You then reveal new days of price action and determine whether you want to buy or sell.
The full chart and company name is eventually revealed to you, and you can see how your decisions turned out. Your performance is then compared to a buy-and-hold approach.
There is no sign up required and you start with $10,000 in cash. Don't know whether you want to buy or sell? Then hit 'Time-lapse' to reveal more price action which may help you with your decision.
In many ways this simulates investing, although you can see your performance very quickly instead of waiting many months. One drawback is that your buys and sells will always occur at the following open.
Overall, it is a good way to practice your chart reading skills and develop an understanding for technical analysis.
The Bottom Line
If you want to sink more baskets, you need to practice taking a lot of shots. Same with trading; these stock market games allow you to practice implementing your strategies and theories in a safe and often fun environment, with no money at risk. Most of these games are a good starting point for beginners. The Thinkorswim and QuestTrade demo accounts are not really games, and therefore geared toward traders who have learned the basics and are ready to try out a professional (and more complex) trading platform. The Chart Game is suitable for new traders as well as those looking to learn more about technical analysis and chart reading.
Demo accounts will show you whether a strategy works or not (in terms of profit), but they can't resemble the psychological pressure of real trading when your hard-earned capital is on the line. If you want a more accurate assessment of how you will perform in the real markets, don't treat these games like games. Instead, only take trades you would if trading with real money. Also, when possible use a starting balance in the game that resembles what your starting capital would be if you were opening a real account.
Latest posts by TraderHQ Staff
(see all)