Best Investment Advice Websites & Advisor Subscriptions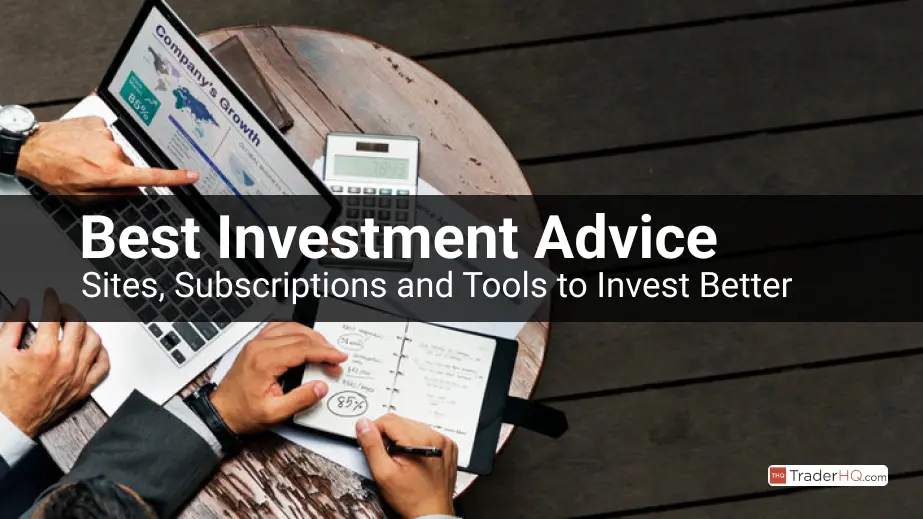 Investing in stocks can be a great way to generate income and build wealth over the long term. However if you are new to investing, the thought of picking stocks or managing a portfolio can be overwhelming.
But don't worry—the process can be broken down into manageable steps, and there are plenty of resources available to help you along the way. In this article, we will introduce you to some of the best investment advice resources we have come across
Before using an investment advice website, there are a few things you should keep in mind. First, it is important to remember that not all investment advice websites are created equal. Some sites may offer more comprehensive services than others. Additionally, some sites may be more expensive than others. As such, it is important to do your research and choose an investment advice website that is right for you.
It is also important to consider the fees associated with using an investment advice site. Many sites charge a subscription fee, while others may offer a free trial period. Be sure to read the terms and conditions of any site you are considering before signing up.
It is also important to keep in mind that the advice and recommendations you receive from an investment advice subscription are not guaranteed to be successful. Investment strategies and markets can change quickly, so it is important to monitor your investments and make changes as needed.
Best Investment Advice Websites and Services
Investment Advice Resources Explained
Stock Picking services: These services offer recommendations for stocks to buy or sell. They may use analytical tools to identify undervalued companies with strong fundamentals, or they may rely on their team of analysts' expertise.
Investment newsletters: These publications provide regular updates and analysis on various investment topics, including stocks, bonds, and mutual funds. Many investment newsletters also offer model portfolios and specific recommendations.
Websites: Numerous websites are dedicated to helping investors make informed decisions. Some popular ones include The Motley Fool, Investopedia, and Morningstar, which are trustworthy stock research sites.
Books: If you prefer learning through reading, there are numerous excellent books on investing that can build a solid foundation for your knowledge. Some favorites include The Intelligent Investor by Benjamin Graham and One Up On Wall Street by Peter Lynch.
Courses: For a more structured learning experience, various courses on investing are available. Many colleges and universities offer courses on investment basics, and reputable organizations like FINRA also provide online courses.
Financial advisors: For personalized advice and guidance, you can always seek the help of a professional financial advisor. Choose someone qualified and with whom you feel comfortable working.
Financial Planning services: These services assist in setting goals, creating budgets, and developing plans to reach your financial objectives. They may also offer investment advice and recommendations.
Tips on Investing Advice
Create a diversified portfolio
Start early
Be patient
Know your risks
Have realistic expectations
Monitor your investments
Get help
Be Discerning About Investment Advice
When it comes to investment advice, use discernment. Many so-called "experts" may not prioritize your best interests. Conduct your own research and consult a trusted financial advisor before making decisions. There is no one-size-fits-all approach to investing—what works for someone else may not be suitable for you. Don't hesitate to ask questions and seek second opinions. The more you know, the better prepared you'll be to make informed decisions about your finances.
Potential Disadvantages
There are several potential disadvantages to using investment advice resources. First, most services require payment, and costs can accumulate over time. Second, even the best resources cannot replace your own research and due diligence. Lastly, some investment advice resources may have conflicts of interest, such as receiving commissions for recommending specific products.
Risks to Consider
Before investing in the stock market, consider several factors. First, establish a clear investment goal. Are you aiming for long-term wealth growth or seeking quick profits? Second, understand the risks involved. The stock market can be volatile, and you may lose money without sufficient knowledge. Finally, research the companies you're considering investing in. Ensure you understand their financials and business models before risking your money.
More Stock Market Resources:
Did you know that...
Dollar-cost averaging can be combined with other strategies, like portfolio rebalancing, for a more comprehensive investment approach?
Cagr is especially useful when comparing the growth rates of two investments over the same time period, as it gives a clearer picture than average annual returns?
These stocks typically reinvest a significant portion, if not all, of their profits back into the business, often forgoing dividends in the short term for potential long-term gains?
While short-term markets can be volatile, historically, the stock market has trended upward in the long run?
Activist investors acquire significant stakes in companies to push for changes that they believe will increase shareholder value?
Quotes of the Day:
"Investing is about finding the right balance between risk and reward." - Louis Bacon
"The best way to make money in the stock market is to invest in companies that have a strong management team." - T. Boone Pickens
"The best investors are those who are able to learn from their mistakes." - Seth Klarman
"Investing is about finding value where others do not see it." - Edward Lampert
"The stock market is a no-called-strike game. You don't have to swing at everything--you can wait for your pitch." - David Tepper
*Disclaimer: Unless noted otherwise all returns are as of Sep 20, 2023. Past performance is no guarantee of future results. Individual investment results may vary. All investing involves risk of loss.
We provide general information, not investment advice. Some of the links on this page are affiliate links in which we receive a commission when a purchase is made.
$89 promotional price for new members only. $110 discount based on current list price of Stock Advisor of $199/year. Membership will renew annually at the then current list price.
$99 promotional price for new Rule Breakers members. $200 discount based on current list price for Rule Breakers of $299. Membership will renew annually at the then current list price.