Motley Fool Everlasting Stocks Review & Discounts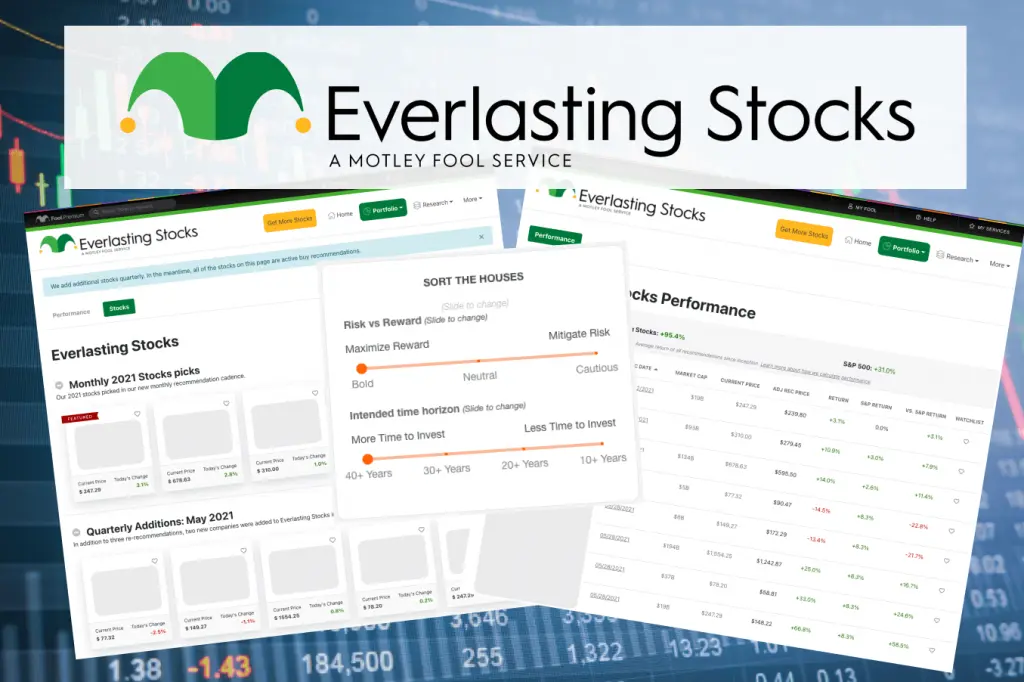 If you are looking to build a long-term investment portfolio yourself without needing to pay high priced investment advisors then Everlasting Stocks by the Motley Fool might be a great fit for you.
Everlasting Stocks is a newer service from the Motley Fool which offers a low cost ($99/year for new members) way to access some of the best stock picks coming out of higher priced Everlasting services such as Everlasting 10x, Rising Stars or the Everlasting Portfolio which normally costs $2,999/year but is available now on promo for $1,599.
Alternatively take a look at their flagship product Motley Fool Stock Advisor and the ever popular growth and innovation focused service Rule Breakers.
Read on to learn more about Everlasting Stocks and to see if it's a good fit for your investing needs.
Everlasting Stocks Performance
The Everlasting Stocks service was started in 2018 and has produced an average return of 18% which is - the performance of the S&P500. Since this service is only 3 years old the portfolio has not had the time yet to compound like Stock Advisor and Rule Breakers have.
Everlasting Stocks Performance
| | | |
| --- | --- | --- |
| Best Picks from Everlasting Stocks | Return* | Annualized Return |
| EV Company | 1,472% | 74% |
| e-Commerce Company | 306% | 65% |
| ANET | 201% | 61% |
| Development Tech Company | 148% | 20% |
| MA | 102% | 15% |
Two monthly stock picks. Prior to Aug 2021 the service released 1 pick per quarter, now the service is releasing 2 per month.
Access to all past picks. The Everlasting Stocks portfolio currently has 35 recommendations and is growing by 2 stocks per month.
Monthly stock rankings. All the Everlasting stock in the portfolio are ranked each month based on conviction level of beating the market over the next 5 years. This is an easy way at any given time to look at the portfolio and understand the highest conviction picks, so you can decide which stocks you want to start investing in.
Sell Alerts. Everlasting Stocks provides sell guidance when the investing thesis for a company changes.
Performance Scorecard. All recommendations are recorded on the scorecard making it easy to track past performance and compare against market performance.
Market Briefings. Members get market briefings so you can stay on top of market developments and news surrounding Motley Fool stock picks from the Everlasting Stocks and other services.
Investing Mindset & Behavior. Members get helpful resources for personal development of behavioral and physiological aspect of investing. This is practically similar to having a mentor guiding you through the current market and helping you stay on track.
Everlasting Stocks Investing Style
Long-term focus, not short-term speculation or market timing.
Data shows that the best performing investments play out over a longer time horizon so the Everlasting focus is on owning great company's worth holding forever.
The central premise of Everlasting stocks is to create a system to compound wealth in a repeatable, sustainable way.
Focus mostly on growth company's with great leadership and very strong financial management of the businesses. Additionally company culture and employee satisfaction factor into the overall assessment of an investment.
Everlasting stocks recommends allocating 80% into stocks, 10% in ETF's and 10% in cash.
Stock Recommendations
The stock picks in this Everlasting Stocks service are some of the best picks from the high priced premium Everlasting services like Everlasting Portfolio which is Tom Gardners personal portfolio, Rising Stars, 10x and IPO trailblazers (full list of all Everlasting services below).
Because the stocks come from the research and recommendations of these other services it means that they can come weeks or sometimes months after recommendation in the other services and thus with Everlasting Stocks you are not getting the earliest exposure to the stock picks, however the tradeoff is a much lower priced service.
Everlasting Premium Services
Click Here to See the Latest Everlasting Stocks Picks (Sep 22nd, 2023)
Investing Mindset
Everlasting stocks and really all Motley Fool investing focuses on the behavioral and mindset side of investing and with that they provide many resources and tools to better equip yourself in this area.
Often times it takes a disciplined mindset coupled with time to achieve life changing returns. For example, Netflix since it's IPO has produced 500x returns, making at $2000 investment worth $5 million today. But over this 20 year horizon the stock fell 70% or more on 4 occasions.
This is where mindset is so important because at the same time some were losing money on Netflix while others were making fortunes of a lifetime. Those that have the right mindset stand to fair much better as an investor over the long-term than those who can get caught up in the "recency effect" and get lost in the now, allowing the long-term big picture view to lose focus.
Tom Gardner likes to say that this isn't a game of lottery tickets but instead of game of building a repeatable, systematic approach to building wealth and having fun while doing so.
Investing Principles
Here are the investing principles Everlasting stocks teaches in order help you become a more successful long-term investor.
Start small and think big. It's now about how much you start with but about just getting started. Start with putting 10% of your cash to work right away. Choose one of the top five Everlasting stocks along with buying the Vanguard Total Stock market ETF (VTI).
Build your foundation. Work your way up to owning 25 stocks to provide stability to the portfolio and increase the likelihood of owning those stocks which produce the blockbuster gains.
Consistent action will lead to great results. Slow and steady wins the race and holding stocks for the long-term produces the best results. Continue to save and add money to your portfolio, adding to winners and having cash ready for the new exciting stock.
Master the marathon. Achieving financial freedom through stock market investing is a matter of mastering your mindset. Market downturns and stock price swings are inevitable and so is long-term growth. It's important to stay focused even with market fluctuations and to not let emotions veer you off course.
Bottom Line on Everlasting Stocks
For new investors and those investing less than $10,000 over the next year Everlasting Stocks is a way to get started in building out great long-term, high growth stock positions at a low-cost.
New members can get Everlasting Stocks at a promo price of $99 instead of $299 and it still includes the 30 day membership fee back guarantee.
Another low cost alternative to Everlasting Stocks is the bundle discount of Motley Fool Stock Advisor + Rule Breakers which you can read about here.
Click Here to See the Latest Everlasting Stocks Picks (Sep 22nd, 2023)
Everlasting Portfolio
For those investing more money you may find and who already have an established portfolio the Everlasting Portfolio service may make more sense as it will get you immediate access to every stock trade Tom Gardner makes right as he makes it.
Click to See the Entire Everlasting Portfolio
More Stock Market Resources:
Did you know that...
Some investors intentionally bunch their itemized deductions in certain years to maximize tax benefits?
The fear of missing out (fomo) can drive investors to jump into trending investments without proper due diligence, increasing risks?
Creating a written investment plan, outlining strategies and criteria, can serve as a reference during uncertain times?
The simplicity of CAGR can sometimes be a double-edged sword – it's easy to compute and understand, but it might oversimplify complex growth patterns?
There are specific tax-advantaged accounts, like iras, 401(k)s, and hsas, which offer various tax benefits such as tax-deferred growth or tax-free withdrawals?
Quotes of the Day:
"The stock market is a device for transferring money from the impatient to the patient." - Peter Lynch
"The most important thing in investing is to know what you're doing." - Julian Robertson
"The best investment you can make is in yourself." - Charles Brandes
"The best investors are those who can control their emotions." - Christopher Davis
"The stock market is a reflection of human nature. It is driven by fear and greed." - Michael Burry
*Disclaimer: Unless noted otherwise all returns are as of Sep 20, 2023. Past performance is no guarantee of future results. Individual investment results may vary. All investing involves risk of loss.
We provide general information, not investment advice. Some of the links on this page are affiliate links in which we receive a commission when a purchase is made.
$89 promotional price for new members only. $110 discount based on current list price of Stock Advisor of $199/year. Membership will renew annually at the then current list price.
$99 promotional price for new Rule Breakers members. $200 discount based on current list price for Rule Breakers of $299. Membership will renew annually at the then current list price.