How to Choose the Best Brokerage Account for Beginners – 12 Best Broker Accounts for New Investors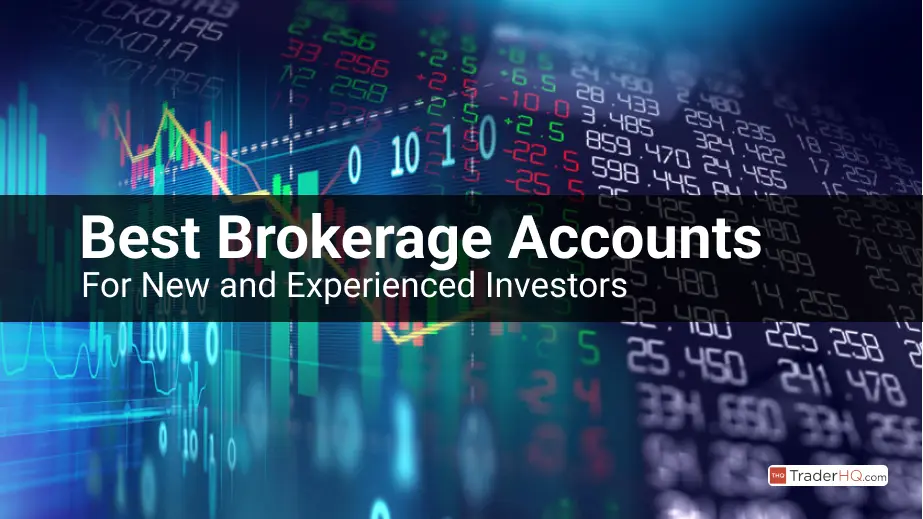 When it comes to choosing a brokerage account, there are a few key factors you should look for: low costs, a diverse range of investment options, and research and learning resources. You can find all of these features with many different brokerages, so it's important to compare them before deciding on one.
1. TD Ameritrade
TD Ameritrade is one of the most popular online brokers in the United States. The platform is easy to use and has a variety of features that make it perfect for traders of all sizes.
It offers a wide selection of investment products, including stocks, mutual funds, ETFs, forex, and cryptocurrency. There is also an assortment of derivative products such as options and futures.
If you are a long-term investor, you can also benefit from dividend reinvestment tools, bonds, and fully-managed portfolios.
Perhaps most importantly, TD Ameritrade allows you to trade US-listed stocks, ETFs, and options commission-free. Moreover, there is no specific minimum needed to open your account and no inactivity fees apply. You can also access market data, news, and analysis for free.
TD Ameritrade is particularly known for its efficient trading platform – 'thinkorswim,' that seamlessly works across web, desktop, and mobile interfaces. You can access trading tools, place complex orders, and access all features regardless of which device you use.
The platform has also been designed with beginner traders in mind, and this is where it truly shines. Using AI, the broker will intuitively suggest appropriate content for you and your skillset.
You can gain access to a personalized learning experience with articles, online courses, webinars, tutorials, and more.
2. Fidelity
Fidelity offers a wide range of features and services to its users.
One of the most notable features of the platform is its 'Fractional Trading' tool, which allows investors to buy only a fraction of a stock instead of needing to purchase a full share.
Fidelity has also reduced its commission on stocks, options, and ETFs to 0%.
Active Trader Pro is the native platform of Fidelity which offers extensive research and asset screeners that integrate well with mobile trading.
The platform also provides educational resources such as webinars, coaching lessons, newsletters, and a dedicated Fidelity Learning Center.
3. Charles Schwab
Charles Schwab is an online brokerage account that gives access to over 4,000 mutual funds, ETFs, stocks, options, and other investment products.
You can trade based on your own research or sign up for the Personalized Portfolio Builder to create a diversified portfolio.
Charles Schwab has committed to charging zero commission on all US-listed stock and ETF investments. You will also avoid having to pay inactivity fees and you can trade without any specific account minimum.
When it comes to research tools, Schwab's is almost hard to beat in this department. Its trading platform StreetSmart Edge allows you to trade through mobile, desktop, or web browsers. In addition to native market insights offered by in-house experts, you can also take advantage of financial analysis provided by Credit Suisse, Morningstar, MarketEdge, and others. You can also find potential trading opportunities using advanced screeners.
In case you want to benefit from fractional shares, the Schwab Stock Slices tool allows you to start investing with as little as $5. To give you a glimpse of its technological advancement – Charles Schwab also integrates with voice assistants such as Google Assistant and Amazon Alexa. You can simply ask for stock or market developments and get updates on your watchlist!
4. E-Trade
E-Trade has recently gone through a revamp to appeal to the new-age retail investor, who may have been discouraged by the company's high commission rates in the past. Today, E-Trade provides its users with three different trading platforms and two mobile apps, each of which offer a unique combination of usability and depth.
According to popular opinion, E-Trader's mobile app is much more intuitive and easy to use than its web version. For professional traders who require more customization options, E-Trader Pro may be a better fit, as it allows for extensive watchlisting and screening capabilities.
E-Trade's zero commission policy extends to stocks, ETFs, and futures, with options trading costing only 65 cents per contract and futures at $1.50. The company's paper trading capabilities are also extensively used by investors to backtest their strategies. In addition, five third-party research reports are accessible on the site, providing users with data from individual analysts as well as daily insights from the in-house counsel.
One area where E-Trade falls behind its competitors is in the user experience of its website. It can be tricky to navigate at first, but once you get the hang of it, you should be able to quickly access your chosen feature without too much hassle.
5. Interactive Brokers
Interactive Brokers is a online broker that serves both experienced and institutional traders, as well as retail investors. The company offers two types of account: IBKR Lite, which is designed for retail clients with no commission fees, inactivity fees or account minimums; and IBKR Pro, which is equipped for more sophisticated traders.
Interactive Brokers also has a wide range of investment products, including access to international exchanges and bonds from Europe.
The company's Client Portal web application enables users to conduct research, place trades and access market data; there is also a mobile app for trading on the go. Additionally, IBKR provides educational resources such as labs and campus functionalities, where students can gain real-world experience in trading.
6. Merrill Edge
Merrill Edge is a good choice for investors who also bank with Bank of America, as the two accounts can be easily linked and used together.
The platform has a straightforward design and offers commission-free trading for options and ETFs.
There are no account minimums or inactivity fees.
Dynamic Insights and Idea Builder are two innovative research tools that can be used to find investment opportunities and customize the account.
However, Merrill Edge lags behind other brokerages in terms of the range of investment products offered.
Investors are limited to equities, options, ETFs, and bonds. There is no access to cryptocurrencies or futures.
7. TradeStation
TradeStation provides a lot of technical analysis tools that will appeal to experienced traders. The brokerage account's official trading platform, TradeStation GO, offers commission-free trading for stocks, ETFs, futures, and options.
However, the cryptocurrency trading platform, TradeStation Crypto, does not have all the same features as GO and charges a commission fee that is based on your account balance.
In order to take full advantage of all the tools that TradeStation offers, you need to have some coding knowledge.
The broker offers an easy language that can be used to modify technical indicators and apply them to charts.
While there are some learning materials available, the more comprehensive ones come at an extra cost.
Overall, TradeStation is a good fit for professional traders who are knowledgeable about technical analysis.
8. Robinhood
The first thing you will notice about Robinhood is how simple and efficient the user experience is.
The platform is fairly easy to navigate, which is one of the reasons why it is such a popular choice for newbie traders.
In its early days, Robinhood stood out from other brokers because it offered commission-free trading on stocks, options, ETFs, and cryptocurrency markets.
It also has no minimum account requirements, which is another plus for beginner investors.
The recent addition of fractional shares is another benefit of using Robinhood.
However, Robinhood has not kept up with the features and technical resources offered by other online brokerage accounts.
For instance, the platform does not offer mutual funds or bonds.
There are also very few learning resources available for traders, even at a beginner level.
Moreover, there are no technical indicators, market analysis tools, or charts offered.
In summary, if you are a beginner hoping to access the investment markets at a low cost, then Robinhood can meet your needs. But it is likely that you will soon outgrow its limited features.
9. ZacksTrade
Zacks Trade commission rates are higher than those of many other online brokerages, but the company offers a variety of features that may make up for the additional costs.
The company's three trading platforms - the Clients Portal, Zacks Trader, and Zacks Trader Pro - are each geared towards different levels of trading experience and offer different features.
ZacksTrade offers access to stocks, ETFs, options, bonds, and mutual funds, but does not currently offer trading in cryptocurrencies.
10. Ally Invest
Ally Invest is best suited for clients of Ally Bank who want to get started with investing.
The more incorporated you are with the banking facility, the more benefits you can gain from Ally Invest.
For instance, you can seamlessly transfer funds from your bank, and the money will be reflected in your trading account within minutes.
Ally Invest offers commission-free trading on stocks, options, and ETFs. There is also forex trading available for over 50 currency pairs.
The InvestLIVE trading platform allows you to customize the interface to your liking and trade from a set-up that is most comfortable to you. The Ally Invest mobile app also has similar functionalities and gives you access to real-time data.
Beyond self-directed trading, you can also opt for 'Managed Portfolios.' This requires a minimum investment of just $100, and Ally will handle your portfolio with the help of a robo-advisor. You can set your personal goals, timeframe, and risk tolerance while leaving Ally to automatically rebalance and re-weight your portfolio.
All of these features make Ally Invest a great choice for those who are already familiar with Ally Bank and want to get started with investing.
11. WeBull
WeBull is a new brokerage account that offers modern features and a sleek trading experience across multiple devices.
The mobile platform is just as efficient as the web version, giving you full trading functionality on the go.
It offers a range of assets including stocks, ETFs, forex, cryptocurrencies, and options, all of which can be traded on a zero-commission basis with no account minimums.
However, it does not have mutual funds or bonds, and its educational content is underwhelming.
If you already know how trading works and are looking for an uncluttered platform, WeBull might be a good fit. However, if you are a beginner that needs more guidance, there are other brokerage platforms that may be better suited for you.
12. eToro
eToro is one of the world's leading social trading platforms. It allows investors to make short-term and long-term investments with ease and efficiency.
The brokerage account gives access to over 4,000 assets, including conventional financial securities and derivative instruments. Cryptocurrency can also be invested in through eToro's native trading platform.
All of these assets can be traded at zero-commission. In addition, eToro is registered with FINRA and holds licenses from the FCA, ASIC, and CySEC.
eToro is known for its intuitive platform that is beginner-friendly. It also allows for passive trading through automated features, such as CopyTrading and CopyPortfolios. These allow investors to mirror the trading strategies of other experienced traders.
The platform has a plethora of learning materials to help new traders learn the ropes of the investment arena. These include webinars, guides, and courses. A demo account is also available to get started with paper money before trading in the live markets.
When compared to other US brokerage platforms, eToro lags behind in terms of technical analysis tools. However, it makes up for this with its other features.
Types of Brokerage Accounts for Beginners
Distinguishing between trading and investing is crucial. Investing entails the acquisition and long-term holding of assets or stocks, often referred to as a "buy and hold" strategy. This approach aligns well with retirement objectives and carries lower risk compared to trading. Trading, on the other hand, involves short-term buying and selling of assets, and is generally riskier and less suited for beginners.
Full-service vs. discount brokers
Two primary categories of brokers exist: full-service and discount online brokers, each with distinct service levels and pricing.
Full-service brokerages: Traditional firms often maintain physical locations for client meetings. These brokerages typically offer retirement planning, tax guidance, and advice on which investments to buy or sell. For example, investing $5,000 in a mutual fund with a full-service brokerage might incur a $150 fee, whereas a discount broker might charge nothing.
Discount brokerages: Catering to self-directed investors, discount brokers usually offer free or low-cost trading. This sector has become highly competitive, resulting in decreasing prices and increasing features, which ultimately benefits investors.
Account types
Three types of brokerage accounts exist: cash, margin, and discretionary. When signing up, you'll need to choose the type that best suits your needs. Most beginning investors find that a cash account suffices, and this option often remains relevant for the long term.
Cash account: The most prevalent type, a cash account requires upfront payment for all investment purchases. Upgrading to another account type later is usually possible.
Discretionary account: This type allows a designated individual to manage stock purchases and sales on your behalf without your direct involvement.
Margin account: With a margin account, you can borrow money to invest, typically up to 50% of the investment's value. Avoid using a margin account if you lack the funds to cover potential losses.
Requirements for opening an account:
A funding bank or savings account.
Your Social Security number for tax documentation.
Your driver's license or state ID to verify your identity.
What constitutes an excellent brokerage account?
Diverse investment options: Choose a broker that offers a range of investment possibilities, such as stocks, bonds, ETFs, options, and mutual funds.
Low commissions: Competition has driven many brokers to offer commission-free trading, while others still charge fees. Select a broker with minimal fees to maximize investment returns.
No hidden fees: Some brokerages impose additional charges for inactivity, transfers, withdrawals, or annual fees. It's best to avoid brokers that levy these hidden costs.
Low or no account minimums: While some brokers require a minimum deposit ranging from $500 to $3,000, many offer no minimum deposits. Opt for a broker that accommodates your financial capacity.
Mobile and online trading: Ensure your chosen brokerage provides a user-friendly platform for both mobile and desktop trading, enabling you to make trades whenever and wherever necessary.
Research and learning resources: Access to key information, research, and analysis on various stocks via your brokerage platform can help you expand your investment knowledge and make informed decisions.
Conclusion
In conclusion, these are some of the best brokerage accounts for beginners that you can consider. Each has its own set of features, so be sure to compare them before making a decision. Whichever account you choose, remember to always keep your goals in mind and invest responsibly.
More Stock Market Resources:
Did you know that...
Thematic investing involves picking stocks based on broader macro or societal trends, like aging populations or renewable energy adoption?
Overconfidence in one's investing abilities can lead to rash decisions and potential losses, emphasizing the importance of continuous learning and humility?
Maintaining a reading habit of diverse subjects, not just finance, can offer unique insights and analogies for investing?
Resisting the human tendency to extrapolate recent events into the future can prevent over-optimism or excessive pessimism?
Some financial analysts utilize the golden cross (when a short-term moving average crosses above a long-term one) as a bullish sign?
Quotes of the Day:
"The best way to make money in the stock market is to buy low and sell high." - T. Boone Pickens
"It's not about timing the market, it's about time in the market." - Warren Buffett
"The best investment advice I can give is to invest in what you know." - Robert Rodriguez
"The most important thing to do if you find yourself in a hole is to stop digging." - Edward Owens
"The stock market is a complex system that is unpredictable and often irrational." - Michael Burry
*Disclaimer: Unless noted otherwise all returns are as of Dec 8, 2023. Past performance is no guarantee of future results. Individual investment results may vary. All investing involves risk of loss.
We provide general information, not investment advice. Some of the links on this page are affiliate links in which we receive a commission when a purchase is made.
$89 promotional price for new members only. $110 discount based on current list price of Stock Advisor of $199/year. Membership will renew annually at the then current list price.
$99 promotional price for new Rule Breakers members. $200 discount based on current list price for Rule Breakers of $299. Membership will renew annually at the then current list price.