eToro Brokerage Account Review - Zero Commission Online Broker & Copy Trading Platform
Related: Best Stock Advisors, Motley Fool Stock Advisor, Investment Advice Sites, How to Invest in Stocks in 2022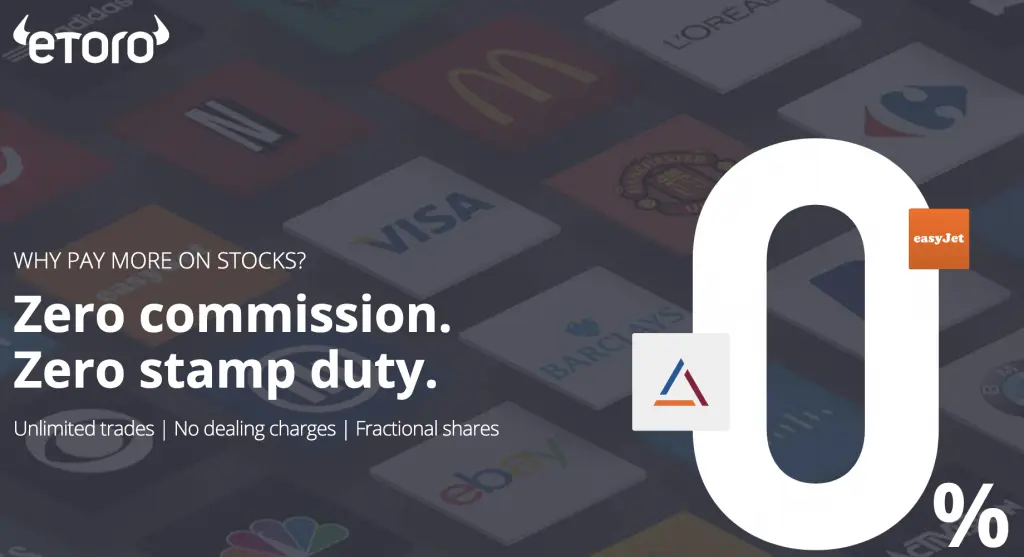 eToro is an online brokerage site that was first launched in 2007. It offers a wide selection of assets - such as traditional shares and ETFs.
Cryptocurrencies can also be bought and sold at the platform and depending on your country of residence - you may have access to CFD facilities. Crucially, eToro is often billed as a go-to broker for those entering the online investment scene for the very first time.
But, is eToro the right broker for you?
In this eToro review, we cover everything there is to know about the platform. This includes fees and commissions, tradable markets, supported payments, security, and more. 
Try eToro with 0% Commissions, Fractional Shares & Copy Trading
What is eToro?
eToro is a regulated online broker that offers traditional investments, as well as CFD trading products. Regarding the former, this includes shares from 17 international markets and over 150+ ETFs. You can also buy cryptocurrencies like Bitcoin, Ethereum, and Litecoin.
The overarching selling point of eToro is that the platform offers a 100% commission-free service. This means no dealing fees to buy and sell stocks, ETFs, and cryptocurrencies.
The platform - which has attracted over 13 million clients since it was launched, is also attractive to newbies. This is because eToro is simple to use and the broker avoids overly complex features, tools, and jargon. eToro is also known for its social and copy trading offering.
The former allows you to communicate with fellow eToro users to share market insights.The latter allows you to pick a profitable eToro trader that you like the look of - and then copy their investments like-for-like.
In terms of eligibility, eToro supports dozens of countries - including the US. The platform is registered with FINRA and licensed by the FCA (UK), ASIC (Australia), and CySEC (Cyprus).
What Assets Does eToro Offer?
First and foremost - if you're from the US, you will only have access to cryptocurrencies and stocks. This is due to regulatory constraints - meaning you can't trade CFDs like gold or oil.
Nevertheless, below you will find the many asset classes hosted by eToro.
Cryptocurrencies
eToro gives you access to 16 cryptocurrencies. This includes Bitcoin, Ethereum, Ripple, EOS, Litecoin, and more.
Once you make a purchase, you won't be able to withdraw the coins out to a privately owned cryptocurrency wallet. Instead, they will remain at eToro until you decide to cash your investment out.
Stocks
eToro offers in the region of 1,800 stocks. This covers 17 different stock exchanges, so you can easily create an internationally diversified portfolio.
This includes markets based in:
Amsterdam
Brussels
Copenhagen
Frankfurt
Helsinki
Hong Kong
London
Lisbon
Madrid
Milan
NASDAQ (US)
NYSE (US)
Oslo
Paris
Saudi Arabia
Stockholm
Zurich
In particular, there is a strong focus on US stocks listed on the NYSE and NASDAQ. This includes most stocks that represent the S&P 500 Index - such as Apple, Amazon, IBM, Disney, and Facebook. The UK's London Stock Exchange also carries a lot of weight at eToro - with all FTSE 100 and some FTSE 250 shares on offer.
ETFs
eToro offers over 150 ETFs. This is great for diversification purposes, as you will be investing in hundreds of different assets through a single trade. There are dozens of index-tracking ETFs at eToro, which is useful if you want to gain exposure to a particular stock market.
This includes the likes of:
SPDR Dow 30 ETF
Vanguard S&P 500 ETF
FTSE China 25 ETF
iShares FTSE 100
Vanguard FTSE All-World
As we cover in more detail shortly, there are no maintenance fees charged by eToro on ETFs - so you can keep hold of your investment for as long as you wish.
CFD Markets
It is important to note that stocks, ETFs, and cryptocurrencies can also be traded in the form of CFD instruments at eToro.
Before we get to that, as long as you do not apply leverage on the aforementioned markets and you go long (meaning you are not short-selling), then you will own the underlying asset outright. This means that in the case of stocks and ETFs, you will be entitled to dividends.
If, however, you short-sold a stock or you applied leverage, this would convert the traditional asset into a CFD instrument.
On top of stocks, ETFs, and cryptocurrencies you can also trade the following CFD markets at eToro:
Forex
If you're looking to trade currencies online, then eToro offers over 45 forex pairs. This covers a wide selection of major and minors, as well as exotic currencies like the South African rand and Romanian leu.
Indices
On top of index-tracking ETFs, eToro also offers indices in the form of CFDs.
This includes the:
Dow Jones 30
China 50
Australia 200
FTSE 100
France 40
Germany 30
NASDAQ 100
S&P 500
Commodities
You can trade 31 different commodity markets at eToro via CFDs. This covers popular metals like gold and silver, as well as energies like oil and natural gas. eToro also offers a good selection of agricultural commodities, such as wheat, sugar, and cocoa.
Once again, the above CFD trading markets are not available to US residents. 
Try eToro with 0% Commissions, Fractional Shares & Copy Trading
eToro Fees and Commissions
As we briefly noted earlier, eToro stands out because of its low-cost pricing structure. In fact, across all of its traditional and CFD asset markets, there are no trading commissions to pay. This makes eToro one of the cheapest brokerage sites in the online space.
Here's an example of what a Bitcoin investment would cost you as a US citizen:
You deposit $500 into your eToro account via debit card
You buy $500 worth of Bitcoin - paying 0% commission
You hold on to your coins for two years - paying no monthly or annual fees
You sell your Bitcoin investment when it is worth $1,200 - again paying 0% commission
In comparison to other popular cryptocurrency brokers like Coinbase, eToro is significantly cheaper.
For example, Coinbase charges 3.99% on debit card deposits. It also charges a trading commission of 1.49% - which is payable when you buy a cryptocurrency and again when you sell.
Now let's look at an example of a stock investment at eToro made by a non-US citizen.
You are based outside of the US and deposit $500 into your eToro account
All non-USD deposits incur an FX fee of 0.5% - so that's $2.50
You buy $500 worth of Apple shares - paying 0% commission
When you get around to selling the shares, again you'll pay 0% in commission
As per the above, buying $500 worth of Apple shares at eToro would cost you just $2.50 in fees. However, it is important to remember that eToro is in the business of making money and it does this through the spread - which we cover below.
eToro Spreads
While you won't pay a commission when you invest at eToro, the spread is an indirect fee that you need to take into account. For those unaware, this is the difference between the buy and sell price of the asset you wish to buy.
The specific spread will vary wildly at eToro depending on the asset class and current market conditions. But, we often find that on major stocks, the spread amounts to about 0.2% on average.
On cryptocurrencies like Bitcoin, this is often in the 0.75% region.
While these are not the most competitive spreads in the brokerage scene, don't forget that you will avoid the need to pay any commission on your buy and sell positions.
Other eToro Fees
Other fees that you need to consider at eToro include the following:
FX Fee: As we briefly mentioned above, all non-USD deposits incur an FX fee of 0.5%. This is charged when you make a deposit. After that, you won't pay an FX surcharge to access international markets. 
Inactivity Fee: If you have a positive balance at eToro and fail to place a trade within one year, you will incur an inactivity fee of $10 per month. This won't come into force if you have a long-term position open on stocks, ETFs, or cryptocurrencies. 
Overnight Financing: If you decide to trade CFDs and you keep the position open past market hours, you will incur an overnight finance fee (swap fee). This is standard practice when trading CFD instruments. 
Try eToro with 0% Commissions, Fractional Shares & Copy Trading
Core eToro Features and Tools
On top of low trading costs, eToro stands out for several reasons. Below you will find a list of core tools that you might be interested in.
Social Trading
eToro is arguably the market leader in the social trading scene. For those unaware, social trading is like the Facebook and Twitter of investments and trading.
That is to say, eToro allows you to publish your thoughts publicly, in which other traders can comment and reply. You can also 'like' other posts and even add fellow eToro traders to your friend list.
Additionally, eToro shows you the current market sentiment on all of the assets it offers. For example, if 95% of investors on eToro are long on Bitcoin, you'll be able to view this.
All in all, the social trading feature is a great way to become part of an online trading community from the comfort of your home.
Copy Trading
The Copy Trading feature really stands out at eToro. Put simply, this allows you to actively trade but in a 100% passive nature. This is because once you select an eToro trader that you like the look of, all future buy and sell positions will be reflected in your own portfolio.
For example:
Let's suppose that you want to passively trade cryptocurrencies - so you elect to copy a successful eToro trader that has a good track record in this space
You invest $1,000 into the eToro trader
The trader places a buy order on Ethereum - risking 5% of their portfolio
In turn, 5% of your own eToro portfolio is allocated to Ethereum - amounting to $50
A few days later, the trader exits their Ethereum position - making gains of 10%
On your $50 stake, you also made gains of 10% - amounting to $5
The Copy Trading feature gives you full control over your money. You can remove individual assets at the click of a button, as well as add new ones. There are no additional fees to take advantage of the Copy Trading feature, albeit, you will need to meet a $200 minimum investment.
CopyPortfolios
Much like the aforementioned Copy Trading feature, eToro CopyPortfolios allow you to invest on a passive basis. Each and every portfolio is professionally managed by eToro.
As such, they will decide which assets to buy and sell, and when to rebalance the portfolio. There are many CopyPortfolios to choose from - each of which will have a specific objective.
For example, there are portfolios that focus on tech stocks, renewable energy stocks, and dividend-paying stocks. There is also a CopyPortolio that diversifies across the most successful eToro Copy Traders.
Fractional Ownership
As eToro is aimed towards retail clients, it makes sense that the platform allows you to invest with manageable amounts. It is able to do this via its 'fractional ownership' feature. This is something offered by other new-age platforms - such as Robinhood and Stash.
The main concept is that you no longer need to purchase a full share or cryptocurrency. On the contrary, you can buy a 'fraction' of your chosen asset..
At eToro, you can buy fractional stocks from just $50, while cryptocurrencies are even lower at $25. As long as you meet the minimum, you can invest any amount of your choosing.
Here's an example of how that works:
You like the look of Tesla stocks - but you don't want to invest $530 to buy a single share
Instead, you decide to invest $53
This means that you own 10% of 1 Tesla stock
Thereon, if Tesla stocks increase in value, your investment will follow suit at a proportionate amount. For example, if Tesla shares increase by 20%, your $53 investment would now be worth $63.60
Leverage and Short-Selling
As long as you are not a US citizen, you will have access to leverage and short-selling facilities at eToro. This comes into play when you trade CFDs.
In terms of limits, this will ultimately depend on:
You country of residence
The asset class
Whether you are a retail or professional client
In most cases, leverage at eToro follows ESMA limits. This means a maximum of 1:30 on major forex pairs, and less on other assets.
In terms of short-selling, this is a great way to profit from falling markets. For example, if you think that Apple shares are due to go down in value over the proceeding days or weeks, all you need to do at eToro is place a sell order. 
Try eToro with 0% Commissions, Fractional Shares & Copy Trading
eToro Trading Platform
eToro offers one of the most user-friendly trading platforms that we have come across. You can clearly see that this has been created with newbies in mind, as everything is laid out neatly and free from jargon and complex terms.
Instead, investing is as simple as searching for your chosen asset and entering the amount you wish to stake. The eToro trading platform is native to the broker and it does not offer any compatibility with third-parties like MT4 or cTrader.
In terms of analysis tools, this is relatively non-existent at eToro. The platform does offer charts that can be customized by the timeframe - but that's pretty much it. As a result, if you are a seasoned trader that is looking to engage in advanced technical analysis - eToro won't be the platform for you.
eToro Mobile App
Although most eToro clients use the main desktop website, the broker also offers a fully-fledged mobile app. This is available to download free of charge on iOS and Android devices.
The mobile app is well designed and much like its desktop counterpart - makes the end-to-end trading process a seamless one. All account features and tools are available on the eToro app - meaning you can trade, check the value of your portfolio, deposit/withdraw funds, and more.
Is eToro Legit?
When it comes to the legitimacy of eToro, the platform is as safe as it gets. First and foremost, the platform has since attracted over 13 million clients - so this in itself gives eToro an amount of credibility.
After all, one of the best ways to gauge the competency of a brokerage site is to assess what the general market sentiment is. This is often expressed by the number of clients that use the platform in question.
With that said, eToro also has a strong regulatory standing. It holds brokerage licenses with three reputable bodies, which includes:
Financial Conduct Authority (FCA) - UK
Australian Securities and Investments Commission (ASIC) - Australia
Cyprus Securities and Exchange Commission (CySEC) - Cyprus
In addition to the above, eToro is also registered with the Financial Industry Regulatory Authority (FINRA) - which opens up the doors to US investors looking to buy stocks and cryptocurrencies.
As per the conditions set out by its license issuers, eToro is required to employ a range of safeguards.
This includes:
Segregation of client funds in separate bank accounts
Identify verification of all eToro users
Clearly displaying the risk of loss when trading
Depending on where you are based, you might also benefit from an investor protection scheme. For example, those in the UK are covered by the FSCS upto the first £85,000 in the event of a brokerage collapse. Members falling under the remit of CySEC are covered upto €20,000.
eToro Deposits and Withdraws
An additional plus-point of choosing eToro as your go-to brokerage site is that it supports lots of payment methods. This includes debit and credit cards issued by Visa, MasterCard, and Maestro.
Several e-wallets are supported, too. This includes Paypal, Skrill, and Neteller. All of the aforementioned payment options are instantly credited to your eToro account. The broker also supports bank transfers, but this can take upto 7 working days to credit.
As we noted earlier, eToro charges a 0.5% conversion charge when you deposit funds in a currency other than US dollars. In terms of account minimums, you will need to deposit at least $200.
When it comes to withdrawals, eToro charges a small fee of $5. US traders, however, do not need to pay this fee. There is a minimum withdrawal threshold of $30.
eToro Customer Support
The easiest way to contact eToro is via the live chat facility. You need to be logged into your account to gain access to this feature. There is no telephone support option at eToro, which is somewhat disappointing.
Alternatively, you can contact eToro via email. Failure to reach a satisfactory resolution may lead you to make contact via the platform's various social media accounts.
It is also worth checking out the FAQ section at eToro, as this is fairly comprehensive.
How to Join eToro - Step-by-Step Walkthrough
If you think that eToro is the right brokerage site for you, the process of registering an account, making a deposit, and placing an order should take you no more than 10-15 minutes.
Here's what you need to do:
Step 1: Register an Account
Visit the eToro website and register an account. You'll need to provide some personal information such as your full name, country of residence, and date of birth.
Step 2: Upload ID
You will need to provide eToro with two documents - both of which can be verified instantly. This includes a valid government-issued ID and a document validating your residency. The latter can be a recently-issued bank statement or utility bill.
Step 3: Deposit Funds
You will need to make a deposit of at least $200. If you want to make an investment straight away, opt for an instantly-processed payment method like a debit/credit card or e-wallet.
Step 4: Invest or Trade
As soon as your deposit is processed, you can start using eToro to trade. Simply search for the asset you wish to invest in, enter your stake, and confirm the order.
Try eToro with 0% Commissions, Fractional Shares & Copy Trading
eToro Review: The Bottom Line
In conclusion, eToro ticks a lot of the right boxes. Not only can you invest and trade assets on a 100% commission-free basis, but there are no ongoing fees. As a US resident, you'll have access to 17 stock exchanges and 16 cryptocurrencies.
Other nationalities can also access CFD trading facilities with leverage and short-selling capabilities. The platform is easy to use and comes with no overly complex jargon or tools.
And most importantly - the broker is heavily regulated. All in all, eToro is well worth considering as an entry-level investment platform - especially if you want to start off with small stakes.
Quotes of the Day:
"Investing is about being patient and waiting for the right opportunities." - Robert Rodriguez
"The investor's chief problem - and even his worst enemy - is likely to be himself." - Philip Fisher
"The best investors are those who are able to identify great companies and hold them for the long term." - Julian Robertson
"The best investment you can make is in a good company at a fair price." - Christopher Davis
"I'm always thinking about losing money as opposed to making money. Don't focus on making money, focus on protecting what you have." - Paul Tudor Jones
"The key to successful investing is to have a well-diversified portfolio that can weather different market conditions." - Steve Cohen
"The best investments are those that are made with a clear understanding of the company's business model and growth prospects." - Ron Baron
More Stock Market Resources: